WELCOME TO THE 2021 CAMP SEASON! 
REGISTRATION NOW OPEN!
---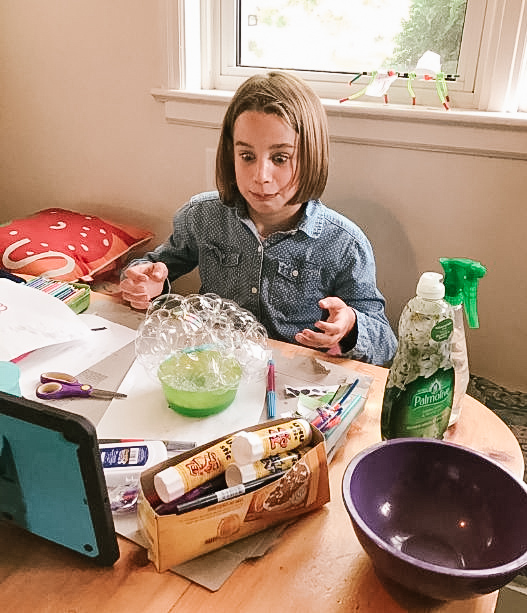 Science North's goal is to constantly inspire people of all ages to be engaged with the science in the world around them, even in these challenging and dynamic times. As such, we welcome you to Summer Science at Home – our virtual summer camp experience.
This activity-based hour held on Zoom takes summer camp in a whole new direction. Your child will get a chance to experiment, build and tinker with stuff found around the house! After your time is done, we will leave your family with other activities and media to use at your discretion.
Whether in your pajamas or at the picnic table outside, as long as you have an internet connection, you can join in on the fun with Summer Science at Home!
Two programs will be available for your child this summer. During our July program (repeated weekly), your child will have fun with different activities that will explore the various fields of science, technology, engineering and math! Then, beginning August 3, a brand-new set of activities will begin (repeated weekly).
---
THE DETAILS
Hosted by

Science North

's highly trained staff

Held on the video platform Zoom with your security and privacy in mind
10am–11am, Monday–Friday
Runs from July 5–August 20
Available for children ages 7 to 9 or 9 to 11
Maximum of 10 participants in each Zoom group

Additional activities and media to use after each live session
---
PRICING
4-DAY CAMP
Members: $72 / Public: $80
5-DAY CAMP
Members: $90 / Public: $100
---
FREQUENTLY ASKED QUESTIONS
WHAT DO I NEED TO PARTICIPATE?

Your child will need to have access to a home computer, laptop or tablet device with internet connectivity. Some of our experiments will require basic household supplies and materials. A list of supplies and equipment will be sent to you one week in advance of your program start date.

WHAT TECHNOLOGY WILL BE NEEDED?

You will need a device that can connect to the internet, which can include a computer or tablet. We will be using Zoom for our live sessions. System requirements found here: https://support.zoom.us/hc/en-us/articles/201362023-System-requirements-for-WindowsmacOS-and-Linux

WHAT IS ZOOM AND HOW DO I DOWNLOAD IT?

Zoom is an online meeting tool and will be the platform our staff will use to meet and interact with your kids! You can sign up for a free account and download the app at zoom.us. A week before your program begins, one of our staff will be available to do a connection test with you to make sure you and your child are comfortable with the Zoom program and ensure that we can hear and see each other.

HOW DO I CONNECT TO THE LIVE VIDEO ON THE DATES I REGISTERED?

In your registration confirmation package, you will receive a Zoom Meeting ID number as well as a Zoom Meeting Password. You will use the meeting ID as well as the password to join your private group of campers. You will be able to test all of this during your Connection Test the week before your program.

HOW ARE THESE VIDEO CALLS SAFE FOR MY CHILD?

The Zoom account that Science North will use for your program is a private account. Only those participants who have signed up and received a confirmation email with the Meeting ID and Password will be able to join the meeting. Furthermore, our program staff control a 'waiting room' function and must allow each participant to enter the program. This further limits outsiders from joining.

IS PARENTAL SUPERVISION REQUIRED?

Our virtual camp experience is a fun and engaging program for your children at home, but we cannot assume responsibility or supervision for your children through the screen! Some parental help may be needed to setup activity stations or supplies before the start of the live portion. There are also some great activities that your whole family can enjoy offscreen after the live portion is complete!

WHAT IS THE BACKGROUND OF YOUR STAFF?

We have a talented group of young people with a passion for both children and science education as part of our crew. Their educational profiles can range from teachers and science graduates to post-secondary students in topics as diverse as speech pathology or physics. We look for people who like children and like science. All staff must have a current police check for the vulnerable sector.

INCLUSION NEEDS?

We welcome campers with special needs; however, our camps are not able to support all needs. Science North cannot provide a 1:1 staff / child ratio. Please speak with the Science North team to review your individual child's situation prior to registration (1-800-461-4898).

WHAT IF MY CHILD ISN'T THE RIGHT AGE FOR THE PROGRAM I WANT TO REGISTER IN?

This is a great question, and we try to accommodate whenever we can. If your 9 year old niece wants to hang out with her 8 year old cousin, we find a way to make that work. The only place we draw the line is at the younger end of the age spectrum. The camp program is designed for 7 and up; not for younger children.