our APPROACH
Science North, Northern Ontario's original science centre, is renowned for a fun and friendly approach to science education. Science North's drawing power lies with its unique approach to learning. Given the relative geographic isolation of Sudbury, Science North founders knew they had to embrace a unique philosophy if the centre was to succeed. What they decided was this: Rather than purchase push-button exhibits that focus solely on cause and effect, why not create new exhibits that take ordinary people through active processes to understand the relationship between science, technology and their everyday lives?
The secret to the success of this new philosophy is personal interaction. Enthusiastic science staff and eager volunteers share their knowledge and experience with every visitor. Staff and volunteers are affectionately known in Sudbury as Science North "Bluecoats", a reference to the blue lab coats always worn on the exhibit floors. Each learning experience is tailored to the individual. Youngsters, or adults in a hurry, can learn how scientific principles affect the world around them. Those with more time can experiment to find out why interactions occur. The more you want to learn, the more you can learn by talking to science staff and by using tools that lead to discovery.
---
HISTORY
Who conceived the idea of
Science North?
The answer is not one person but rather several people who worked together to realize what had been a community dream for over two decades. Suggestions for a mining museum for Sudbury first began in the mid-1950s and continued into the 1970s. By the late 1970s, the emphasis had changed toward a centre for science, not just geology or mining technology.
Community discussion became action when former Chair of Inco Ltd., J. Edwin Carter, and the company's Vice-Chair, the late John McCreedy, made it known to community leaders that Inco was prepared to finance a study to explore the concept of a science centre in Sudbury. In April 1980, Carter's successor at Inco, Chair Charles Baird and President Don Phillips presented the late Sudbury Regional Chair Delky Dozzi with a grant of $150,000 to choose a location and complete a conceptual study and feasibility analysis for Science North.
Geologist Dr. David Pearson of Laurentian University was appointed Project Director and the architectural firms of Moriyama and Teshima of Toronto and Townend, Stefura, Baleshta and Nicholls of Sudbury were appointed co-leaders of a study team by the Sudbury Regional Development Corporation (S.R.D.C.).
Chairman Dozzi died suddenly in June, 1980, and was succeeded by George Lund, the first President of Science North's Board of Directors. Lund and the other members of the S.R.D.C. committee received the study team report in November 1980, and accepted its recommendations on the location, design, concept, and implementation of Science North.
Two months later, in January, 1981, Inco Ltd. announced it would make a capital donation to the project of $5 million - the largest single corporate donation to a community project in Canadian history at that time. In April, Falconbridge Ltd. announced it would donate $1 million to Science North, the largest donation in the company's history. And in May, 1981, the Province of Ontario committed $10 million to the project, paving the way to start construction.
The first blast to begin excavation of rock at the Science North site took place on June 29, 1981, and development was underway. Science North opened June 19, 1984 and was officially opened by Her Majesty Queen Elizabeth II and Prince Philip on October 4, 1984. Science North became an agency of the Ontario Ministry of Culture on January 17, 1986.
Since Science North opened its doors on June 19, 1984, it has been serving Northern Ontario with its unique brand of science education and family fun.
Over the years, Science North has had the privilege of hosting many other dignitaries – everyone from TRH Prince and Princess of Wales, Charles and Diana and the Princes William and Harry (1991), to Everest mountaineers Sir Edmund Hillary (1987), and Tenzing Norguay's son Jamling Norgay (1999) to renowned physicist Stephen Hawking (1998). World-famous chimpanzee researcher, Dr. Jane Goodall, was a special guest in 2002 and 2009, double Olympic Gold Medal swimmer Alex Baumann has been a visitor, and triple Olympic Gold Medal Rower Marnie McBean helped launch 2004's special exhibition, the Human Machine. These special guests had one thing in common – the desire to see the unique, hands-on, personal style of this Northern Ontario science centre and its friendly resident Bluecoats (a name affectionately used for the staff because of the blue lab style coats worn on the exhibit floors).
---
TIMELINE & KEY DATES
The first blast to begin excavation of rock at the

Science North

site took place on June 29, 1981, and development was underway.

Science North

opened June 19, 1984 and was officially opened by Her Majesty Queen Elizabeth II and Prince Philip on October 4, 1984.

Science North

became an agency of the Ontario Ministry of Culture on January 17, 1986. Since

Science North

opened its doors, it has been serving Northern Ontario with its unique brand of science education and family fun.
In 1994, the science centre opened its

IMAX® Theatre

. Since then,

Science North

has produced four giant-screen films – Gold Fever, Bears, Jane Goodall's Wild Chimpanzees and Mysteries of the Great Lakes. In 2008, with the creation of Mysteries of the Great Lakes, 

Science North

expanded its role in the industry by also becoming a distributor of giant-screen films.

Science North

has become one of the leading producers of giant-screen films in Canada. It is the only science centre in the world with an in-house large-format film production unit and it has built a reputation as a specialist in environmental and natural history themes. In 2009, in celebration of the science centre's 25th anniversary, the

Science North

IMAX® Theatre

was completely transformed, and reopened February 28, 2009 offering Northern Ontario a new experience –

IMAX® 3D

; the most immersive movie experience in the world!
In 1996,

Science North

created a specialized unit to sell its award-winning exhibitions and multimedia theatres.

Science North

's exhibit sales and consulting business, and the Large Format Film unit, draws on the expertise of

Science North

's highly skilled staff scientists and in-house production teams to create award-winning exhibitions, multimedia theatres and giant screen films for domestic and international audiences. Profits are directed into exhibit development and renewal… and that means visitors can enjoy a dynamic and ever-changing experience when they come to

Science North

and

Dynamic Earth

.
In 2000,

Science North

celebrated the millennium by opening the F. Jean MacLeod Butterfly Gallery – an exotic paradise filled with hundreds of free-flying tropical butterflies.

Science North

's 667 sq. m. (6000-square-foot) special exhibits hall is the site of travelling science exhibitions and special displays, year-round. There is always something new to see and do at

Science North

! It opened in 2000.
The TD Canada Trust Toddler's Treehouse officially opened February 22, 2000 with officials from TD Canada Trust in attendance. TD Canada Trust is the official sponsor of this great educational play area, dedicated to children from newborn to age five. In 2006, a fun new pirate ship climber and toy piano were added to the experience.
In 2003,

Science North

opened the first phase of

Dynamic Earth

. This marked the largest capital expansion in the history of the Science Centre. Located in Sudbury's west end at the site of the famous Big Nickel, this now complete Earth sciences centre combines both above and below ground experiences that offer visitors the chance to work and play with real mining equipment and technologies.
Since 2004, the Vale Cavern has been host to a multi-sensory visitor experience called Wings Over the North: A 4D Bushplane Adventure, a

Science North

production launched during the centre's 20th Anniversary. The NOHFC supported the development of Wings Over the North and facilitated a collaboration between two Northern Ontario attractions –

Science North

and the Canadian Bushplane Heritage Centre.
In 2009, the Science Centre celebrated its 25th anniversary, along with the International Year of Astronomy, by adding a domed planetarium to its family of attractions in Sudbury. With state-of the-art digital technology, it is the first

Planetarium

of this kind in Northern Ontario. The new dome planetarium opened July 11th, 2009 at

Science North

.
On March 13th, 2009, a celebration was held to mark the official opening of the Science Centre's newest attraction, Club Génome, a new object theatre that highlights DNA and genetic science. In March 2010, 

Science North

 opened Legends of the Great Lakes, a new object theatre featuring original stories, created using some of the high-definition, sweeping imagery from

Science North

's award-winning large-format film Mysteries of the Great Lakes. A third object theatre, which will allow visitors to explore our understanding of the universe also opened in 2010.

Science North

's 25th anniversary year marked the beginning of a period of extensive renewal throughout the science centre.

Science North

is changing so that it can inspire the next generation of visitors, and continue to be recognized as a centre of excellence, imagination and family learning.
In 2011,

Science North

is proud to launch several exciting new learning and visitor experiences which encompass many areas of the science centre. The brand new Northern Ecosystems area on the third floor highlights Forests, Wetlands, and Lakes and Rivers, and features brand new exhibits and enhanced habitats for the ambassador animals. The popular object theatre, the Climate Change Show, on the fourth floor of the science centre, has undergone a complete update and has become the Changing Climate Show, with Canadian TV personality Rick Mercer reprising his role as Sheepy, the informed, rubber-booted sheep. In the fall of 2011, a new 4D experience in the Vale Cavern, Wildfire, which will take visitors into the heart of a major forest fire and give them an unforgettable look at how fires are created and ultimately controlled.
---
GET TO KNOW OUR NEW CEO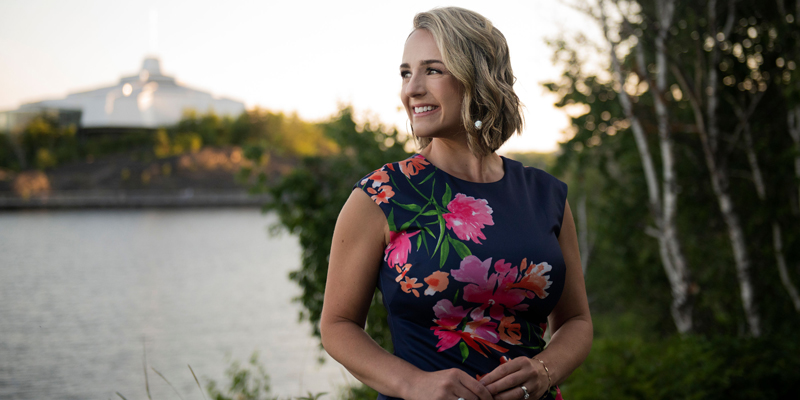 We are thrilled to share that Ashley Larose is Science North's new CEO!
Ashley's got big ideas, big plans, and big heart. She brings a passion for education, leadership, and social impact to Science North. We sat down with Ashley to learn more about her plans for the organization as well as uncover some fun facts. We asked her 10 questions to get to know a little more about her:
WHERE DID YOU GROW UP?
I grew up in Smooth Rock Falls, a beautiful town in Northern Ontario.
WHAT DID YOU STUDY IN SCHOOL?
I grew up spending lots of time outdoors and was always curious about how things work. In elementary school, I remember engaging with a

Science North

Bluecoat in our school and that was the first time I connected my sense of discovery with the word "science". Eventually I went on to attain both my Bachelor's and Master's degrees in Biology.
WHY DID YOU CHOOSE SCIENCE NORTH?
I chose and continue to choose

Science North

because this is an incredible organization full of passionate people who believe in our purpose to engage people with science in their everyday life. 
HOW LONG HAVE YOU WORKED AT SCIENCE NORTH?
I joined

Science North

in 2006 to lead our Northern Ontario outreach programs, and from there had the honour of serving the organization in many other roles; including our International business development and our current Capital Campaign for the Go Deeper project at

Dynamic Earth

.  
WHAT IS YOUR FAVOURITE THING ABOUT SCIENCE NORTH?
That's an easy one! By far it's the diversity of incredible things our teams deliver. We create amazing memories and learning opportunities for our visitors, we connect with communities all across Northern Ontario and we have a world-class reputation for being a leader in the global science centre community.
WHAT IS ONE OF YOUR COOLEST MEMORIES OF WORKING AT SCIENCE NORTH?
There are so many to choose! One of the most special to me was the first time I had the opportunity to don my own Bluecoat and deliver programs in schools across the North. It was an incredible full-circle moment for me!
DO YOU HAVE A FAVOURITE ANIMAL AMBASSADOR AT SCIENCE NORTH?
As a biologist, our Ambassadors are near and dear to my heart. It's hard to pick a favourite, so perhaps I can say that my favourite animal interaction is watching our visitors engage with our flying squirrels during our Bluecoat demonstrations – it's such a fun memory to create!
DO YOU HAVE A FAVOURITE SCIENCE NORTH EXHIBIT?
When I first moved to Sudbury and told people I get to work at

Science North

, one of the first questions was usually around our Nature Exchange! It's such an innovative experience and a fun way to connect our visitors with science right in their own backyard. Over the past few years, we have extended our reach into Northern Ontario through the installation of nature trading experiences, and now even more people can engage with this very cool exhibit.
WHAT IS A LITTLE KNOWN FACT ABOUT YOURSELF?
I'm a fairly open book, but not many people know that until I joined

Science North

, the best job I ever had was being a lifeguard at an outdoor pool!
WHAT ARE YOU MOST EXCITED ABOUT AS THE NEW CEO AT SCIENCE NORTH?
Our potential! We have an incredible team, a strong strategic plan, an engaged Board of Trustees – that is really the perfect foundation on which we will build our future together. And I couldn't be more excited! I can't wait to spend time listening to our partners, our communities, our visitors and our stakeholders, and I look forward to learning how we can continue to serve all of Northern Ontario.
---
STRATEGIC PLAN 2022–2025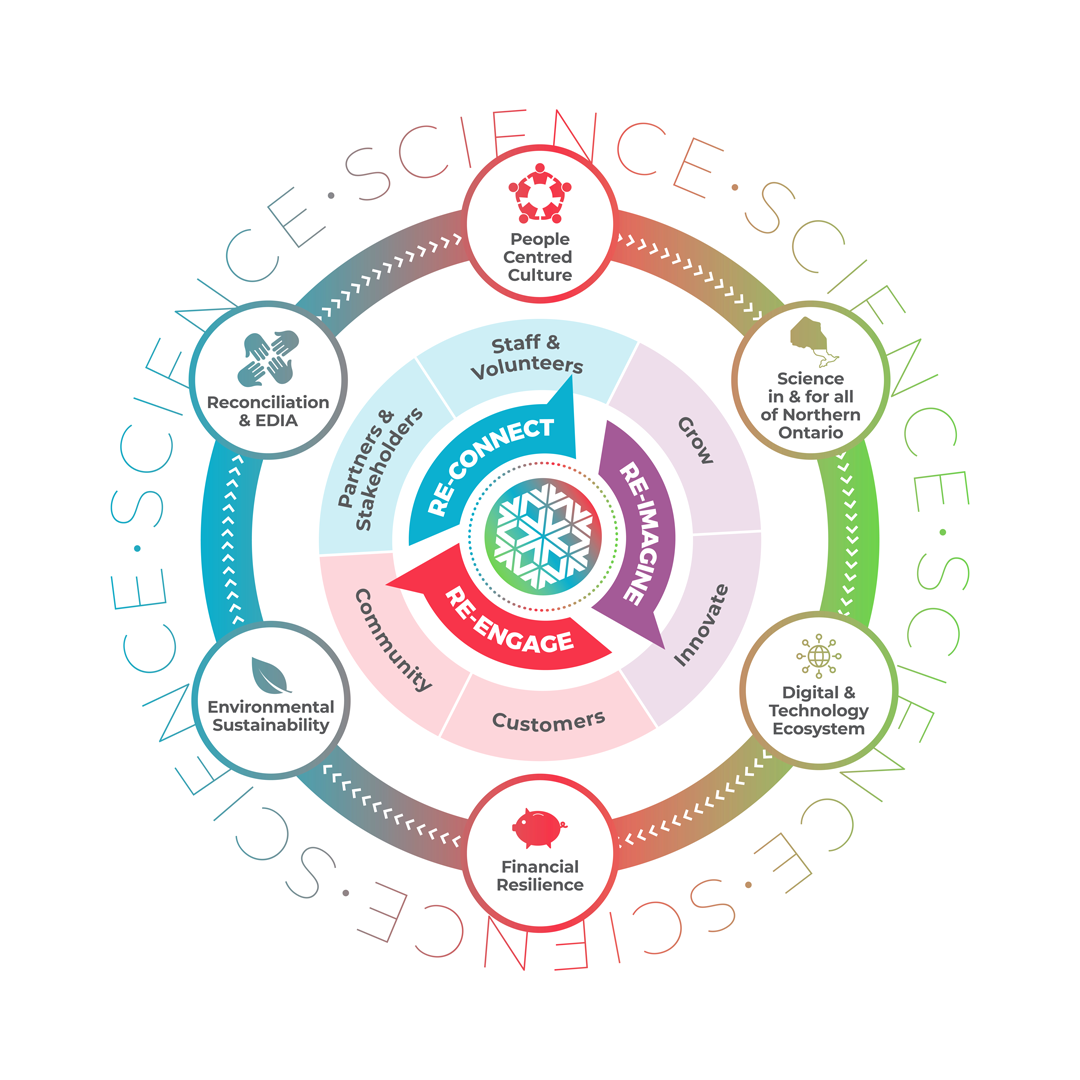 VIEW THE SCIENCE NORTH STRATEGIC PLAN
---
MEDIA CENTRE
For all media inquiries, including travel writers, bloggers, and commercial photography / filming requests, contact:
Julia Aelick
Senior Manager, Marketing
Science North & Dynamic Earth
aelick [at] sciencenorth.ca