ABOUT SCIENCE NORTH
Science North is Northern Ontario's most popular tourist attraction and an educational resource for children and adults across the globe.
Science North maintains the second and eighth largest science centres in all of Canada and features an IMAX® with Laser theatre, digital Planetarium, butterfly gallery, special exhibits hall, and so much more!
---
ADAM SHOALTS BOOK EVENT
WHERE THE FALCON FLIES: A 3,400KM ODYSSEY FROM MY DOORSTEP TO THE ARCTIC
In 2022, Adam Shoalts embarked on 3,400 km journey by canoe from Lake Erie to the Arctic. The adventure is the subject of his new book, Where the Falcon Flies: A 3,400 Kilometre Odyssey From My Doorstep to the Arctic. Shoalts will share the story of his journey with us, including photos and maps.
November 7, 2023
Vale Cavern
$40
7:00pm to 7:30pm — Social Time with Adam
7:30pm to 8:30pm — Adam's Talk
8:30pm to 9:00pm — Book Signing and Questions
Ticket includes a copy of Where the Falcon Flies: A 3,400 Kilometre Odyssey from My Doorstep to the Arctic. Snacks and drinks will be available for purchase.
AUTHOR BIO
Adam Shoalts is a professional adventurer, best-selling author, and Westaway Explorer-in-Residence at the Royal Canadian Geographical Society. His expeditions range from mapping rivers to archaeological projects, but Shoalts is best known for his long solo wilderness journeys, including crossing alone nearly 4,000 km of Canada's Arctic. Named one of the "greatest living explorers" by CBC and declared "Canada's Indiana Jones" by the Toronto Star, Shoalts is a frequent guest on TV and radio. His books include Alone Against the North, A History of Canada in 10 Maps, and Beyond the Trees: A Journey Alone Across Canada's Arctic, and The Whisper on the Night Wind, all of them national bestsellers. He has a PhD from McMaster University in history.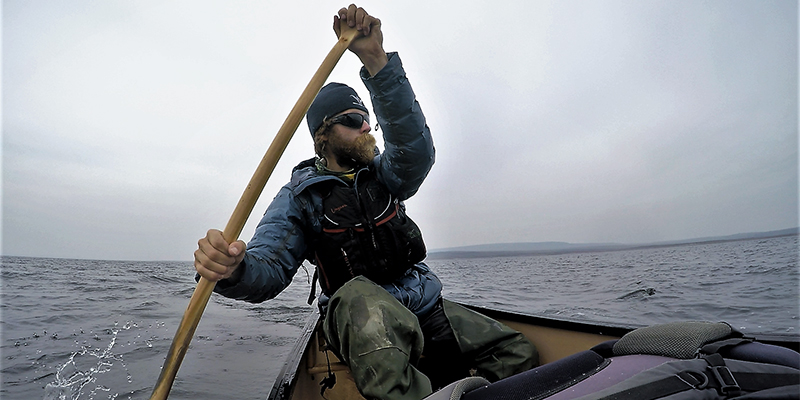 ---
SENSORY SUNDAYS
SENSORY FRIENDLY SUNDAYS
Science North is for everyone! If our regular operations are a little too much for your senses to handle, join us for a Sensory Friendly Sunday, for a quieter, sensory friendly experience. During this event, sounds will be turned down or off, lighting will be adjusted, the science centre will be less busy, and certain spaces will be set up as sensory break spaces. At noon, catch a special sensory-friendly IMAX® with house lights on, reduced volume, and no trailers or preshow!
** Please also note that our Lapidary Lab workshops will not run on Sensory Sundays as the equipment can be very loud. 
DATES 
October 15
November 12
December 10
---
2ND FLOOR
Nature Exchange, Lapidary Lab, F. Jean MacLeod Butterfly Gallery
Head to the second floor of the science centre for some one-of-a-kind visitor experiences. 
Polish a mineral in the Lapidary Lab
Handle exotic invertebrates, and trade some natural artifacts at the Nature Exchange
Visit tropical butterflies in the F. Jean MacLeod Butterfly Gallery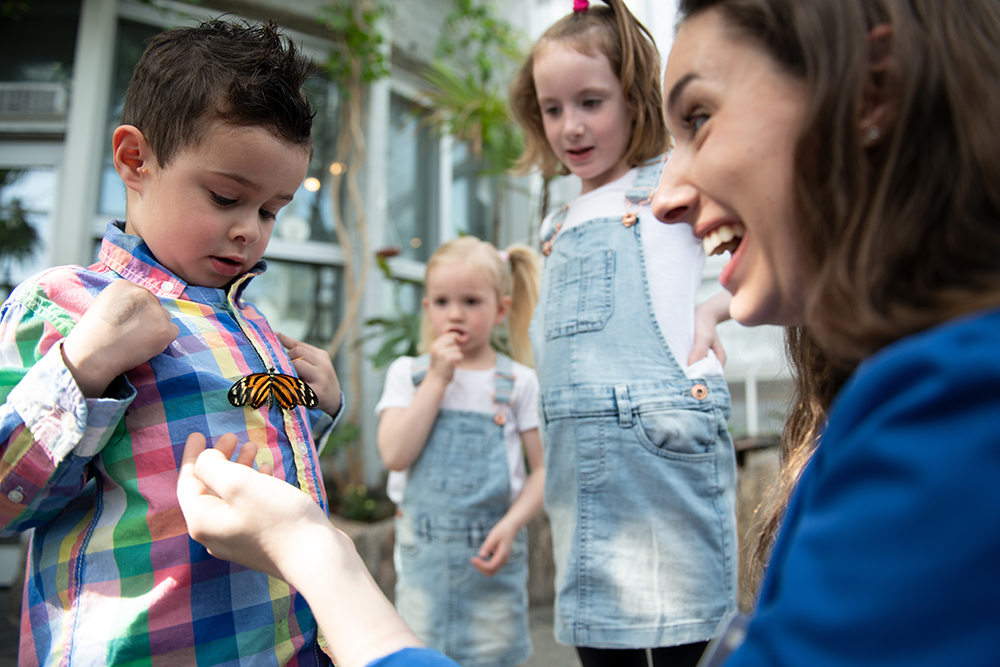 ​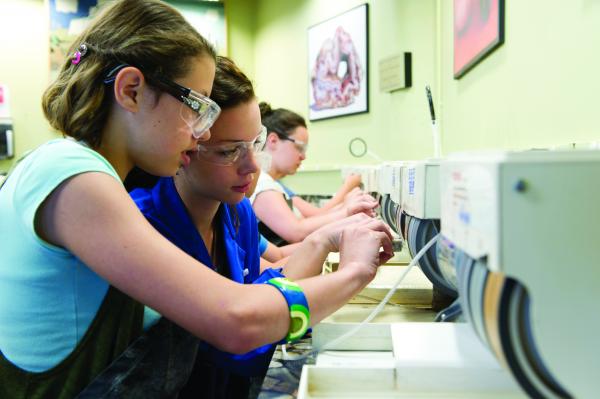 3RD FLOOR
Northern Ecosystems
Take a voyage through Ontario's natural landscapes with Northern Ecosystems.
Visit Science North's animal ambassadors and learn about the wildlife found in our own backyards. Discover what fish live in Ramsey Lake, learn how you can help at-risk species in Ontario, and even come face to face with a snake!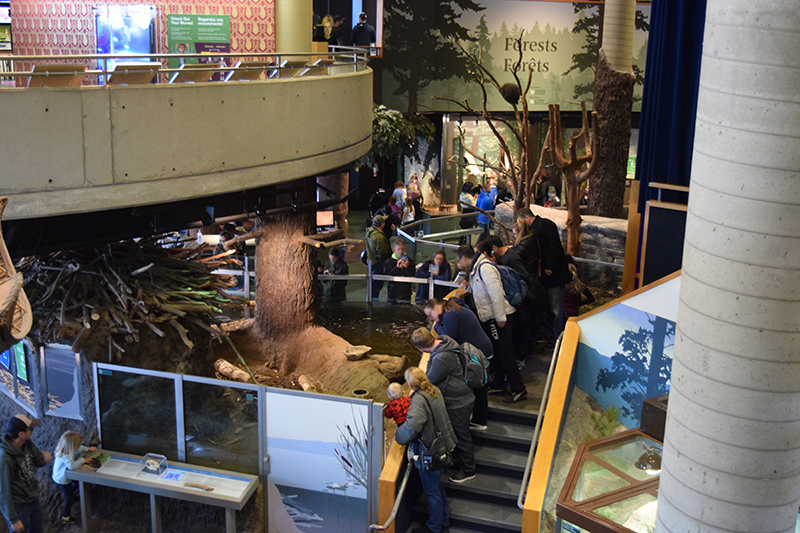 ​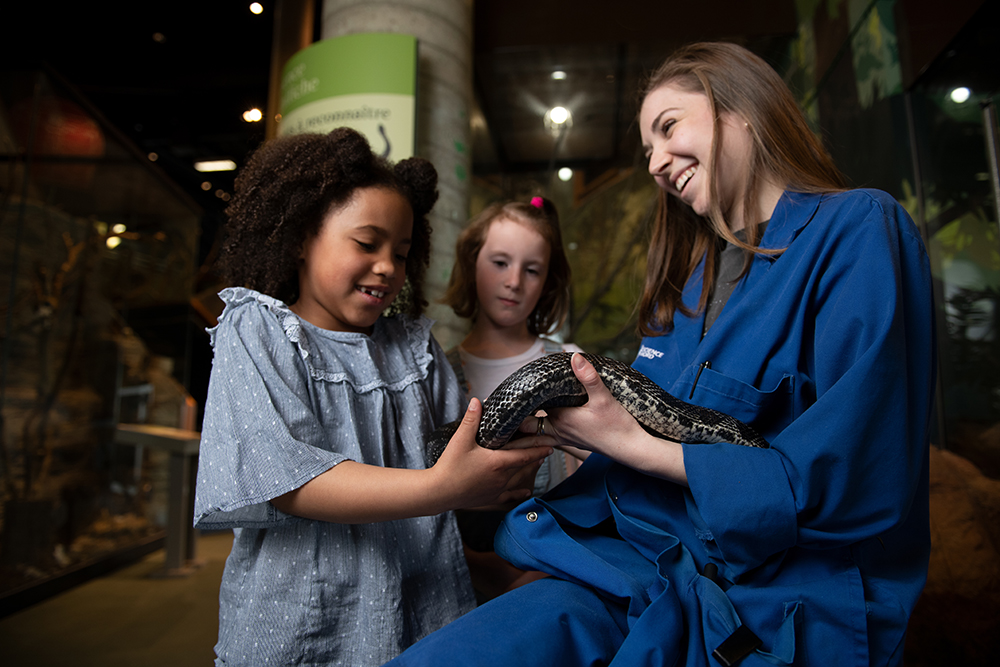 Science North has been an affiliate member of Canada's Accredited Zoos and Aquariums (CAZA) since 2013. CAZA is a nonprofit organization that sets high standards of care and welfare for animals in human care across Canada. Their mission is to connect people to nature through education, conservation and animal welfare. Science North remains committed to providing exemplary care for our the animal ambassadors to ensure they are healthy, comfortable, well nourished, and safe at all times.​
4TH FLOOR
Discover. Learn. Play.
Tinker, play, and have fun in our Tech Lab. Build racecars, learn about space exploration, and take a spin in the Gyroscope. Or discover the latest breakthroughs in biology in our Bio Lab.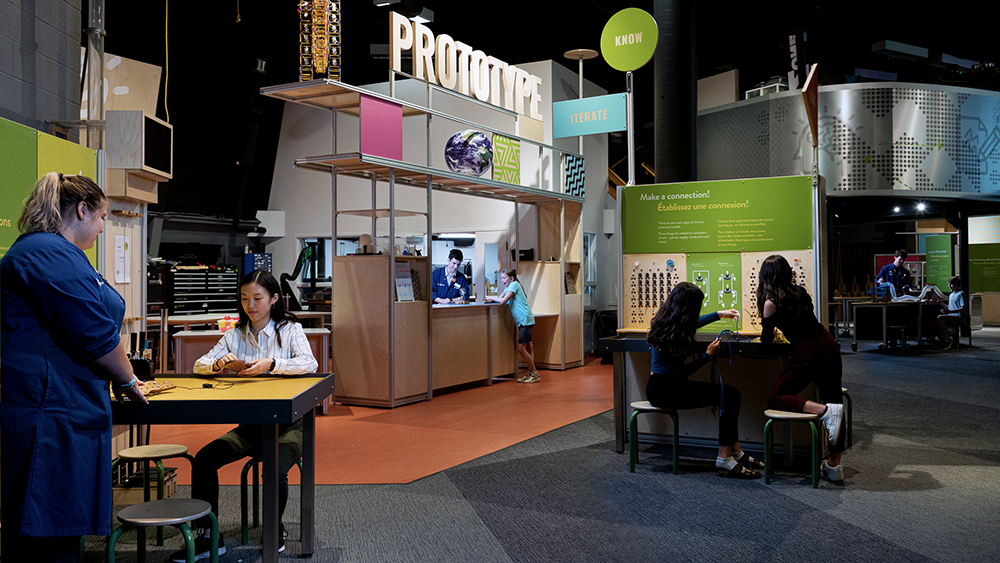 ​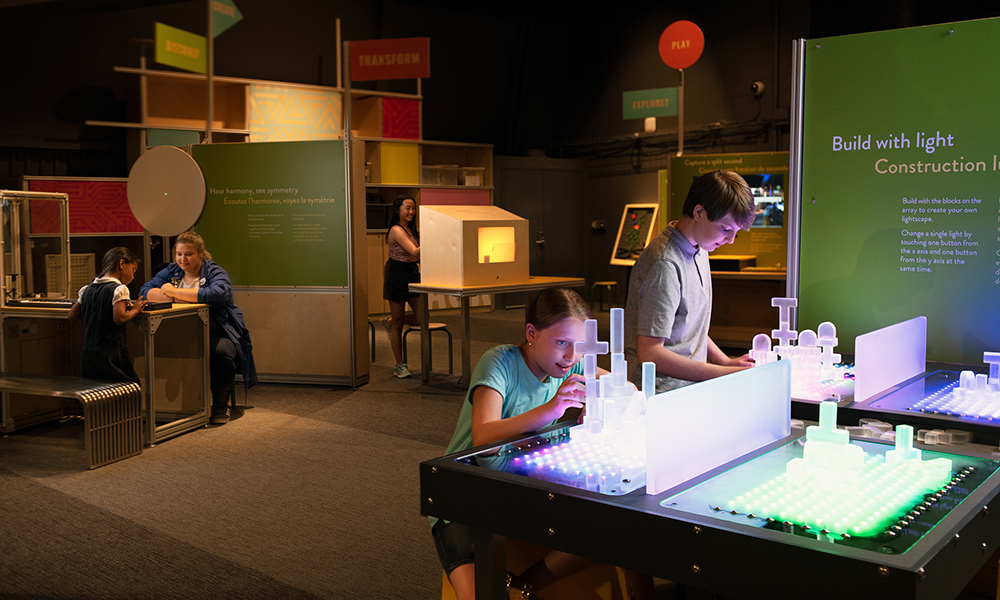 ​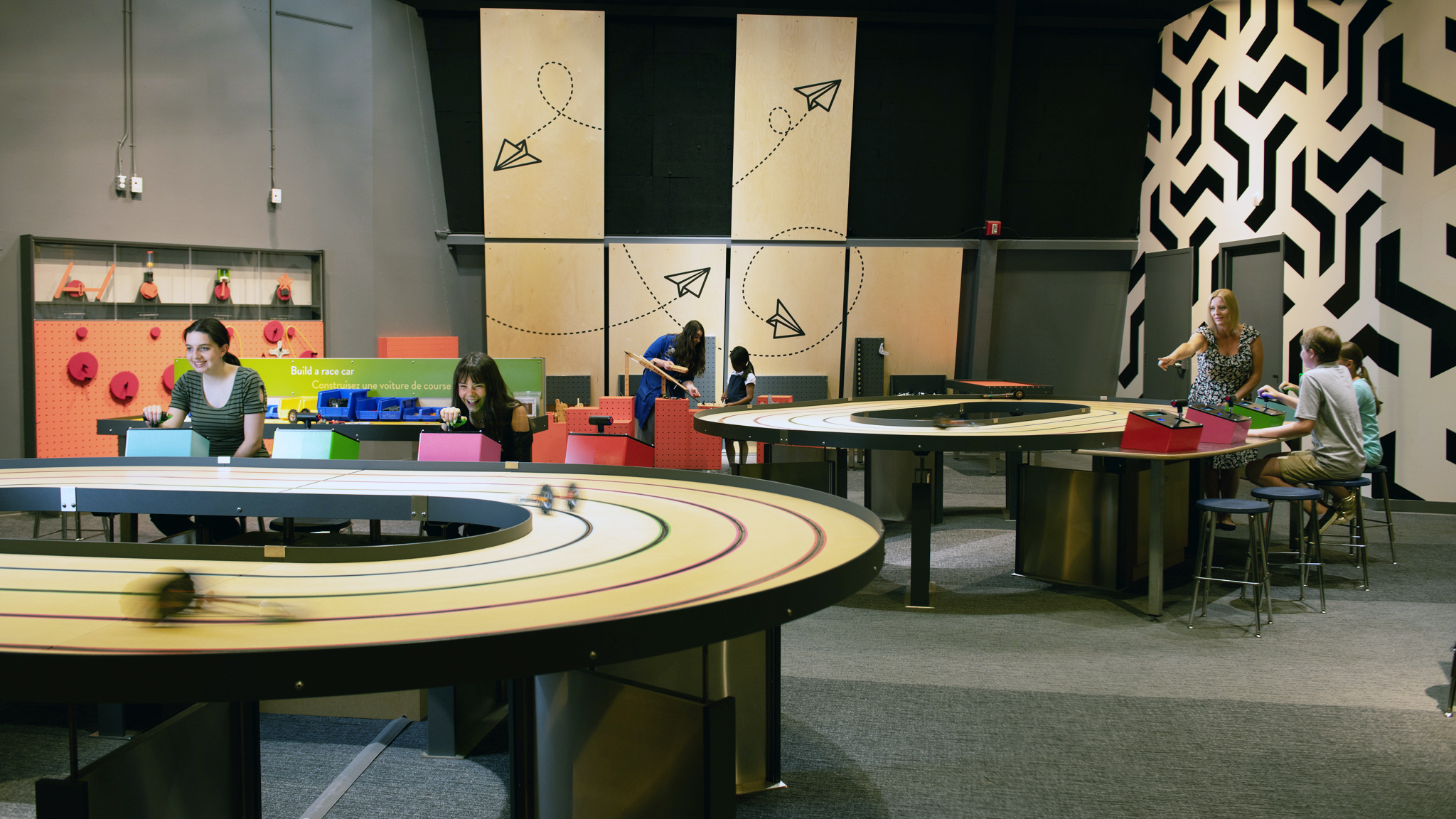 FUNDED BY

---
CLIMATE ACTION SHOW
Sheepy is back with a brand-new climate action mission! Building on Science North's past award-winning multimedia object theatres on climate change, the Climate Action Show empowers visitors of all ages to become change agents.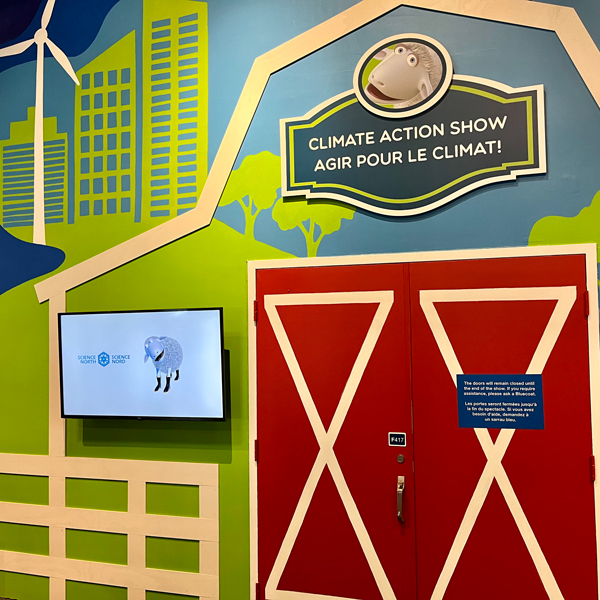 ---
TD ABINOOJIIHNS MITIGO GAMIK TODDLER TREEHOUSE
KIDS ZONE
Toddlers and preschoolers have a special place at Science North! This great educational play area is dedicated to young children from newborn to age five.

DISCOVERY THEATRE
Science Demonstrations
This amphitheatre is the setting for wacky and wonderful science demonstrations, hosted live each day by Science North's talented staff! Each show features plenty of audience participation and plenty of surprises! The Discovery Theatre is accessible from both the 3rd and 4th floors.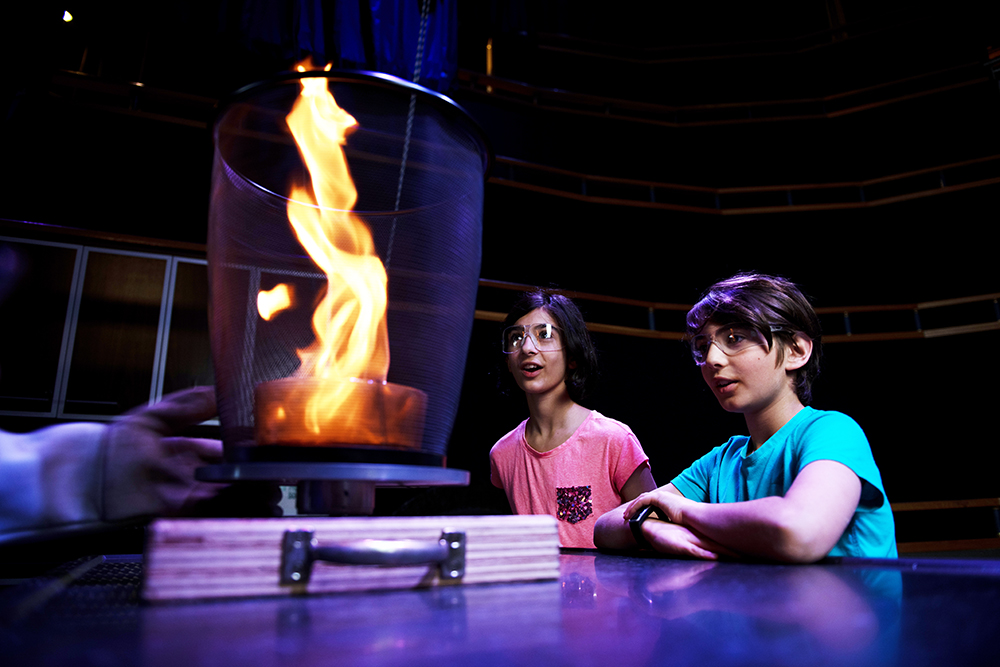 ​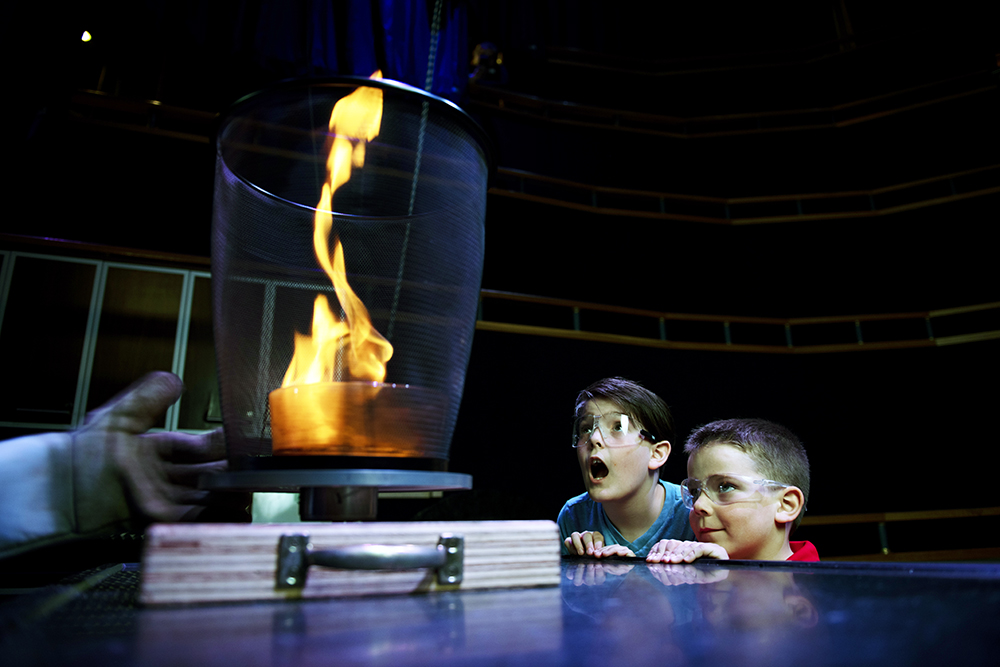 ​
VALE CAVERN
FILM SERIES
Get a unique look at some of nature's most ferocious and fascinating phenomena!
 
Get up close and personal with some of Northern Ontario's Species at Risk in the 2D films:
Massassauga Rattlesnake
Fowler's Toad
Blanding's Turtle
Pitcher's Thistle Films
Films are screening in Science North's unique Vale Cavern.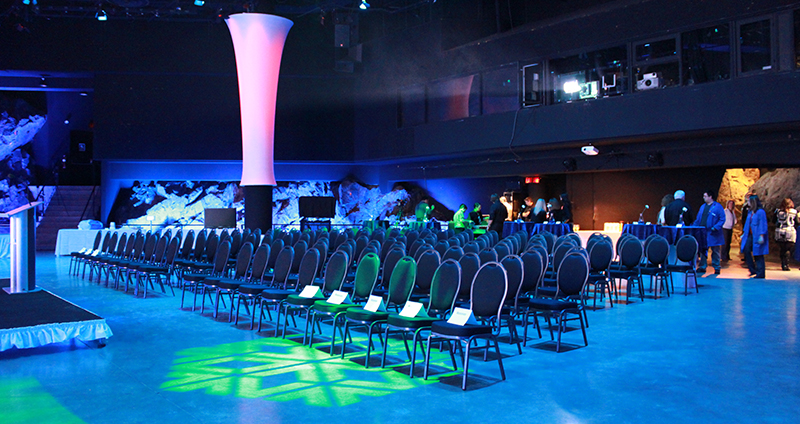 WILLIAM RAMSEY BOAT CRUISE
ONE-HOUR CRUISE
See beautiful panoramas, gorgeous lakefront homes, serene sailboats, and people out enjoying the water while you relax onboard a one-hour cruise around Ramsey Lake located in the middle of the City of Greater Sudbury.
Fully equipped with two washrooms and a snack bar, The William Ramsey can accommodate 50 passengers per cruise, is stroller and wheelchair accessible and is licensed by the LLBO. Their public cruises are perfectly designed for people of all ages…with plenty of seating and a spacious back deck, there are lots of vantage points to enjoy the beautiful scenery. Children will enjoy an opportunity to drive the boat (under the watchful eye of Captain Rob!). All public cruises are one hour, and sail rain or shine.
Private or group charters can be reserved by calling Captain Rob directly at 705-691-5237.
2023 SCHEDULE
JUNE 3 – JUNE 30

Saturdays and Sundays only
1:30pm and 3:00 p.m. departures
JULY 1 – SEPTEMBER 3

7 days a week
1:30pm, 3:00pm, 4:30pm, 6:00pm and 7:30pm departures
SEPTEMBER 4 – OCTOBER 1

Saturdays & Sundays only
Also on Monday, September 4
1:30 and 3:00 p.m. departures
BIRTHDAY PARTIES
A FUN PARTY AT A GREAT VALUE
Give your child an amazing birthday party that is one of a kind with the help of our Bluecoats! Enjoy a fun-filled day with affordable prices and flexible party options. We can help make it a birthday to remember!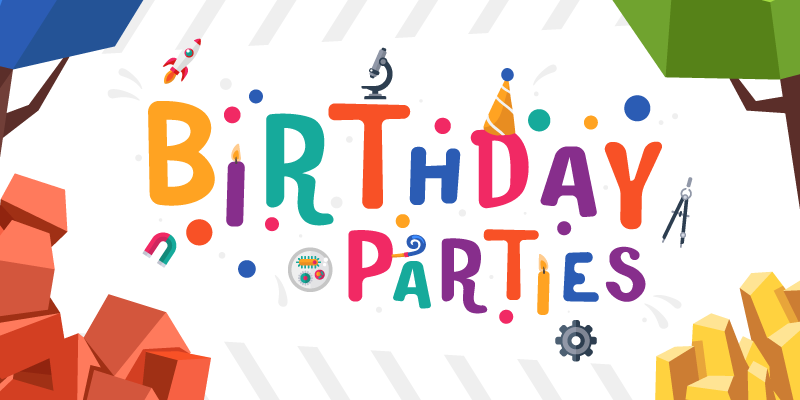 GIFT CARDS
Give a Gift
For the person who has everything – a valued employee or a special client you may be trying to impress – our gift cards make for a fantastic gift! Redeem them and discover all of the wonderfully unique experiences our science centres have to offer!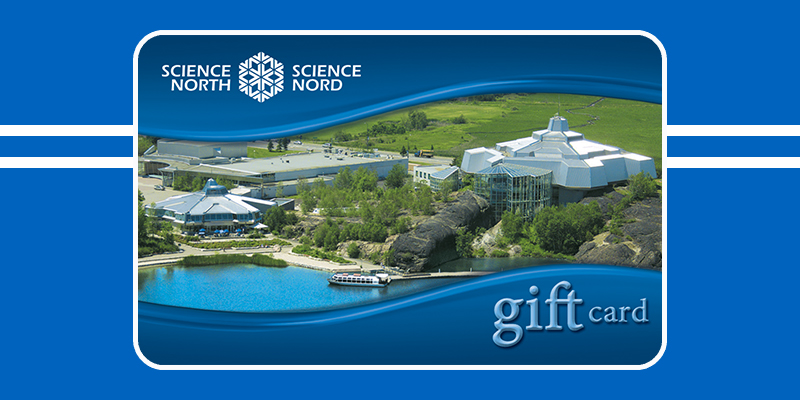 SHOP & EAT
Whizards
Shopping has never been so much fun! Whizards is filled with hundreds of fun science-based and educational gift ideas that will stimulate the brains of children young and old. The best part? The kids will be having so much fun that they won't know that the gift you've given is educational!
Featuring original souvenirs of Sudbury, Science North "Bluecoat approved" educational toys, clothing, novelties, and gifts for all ages.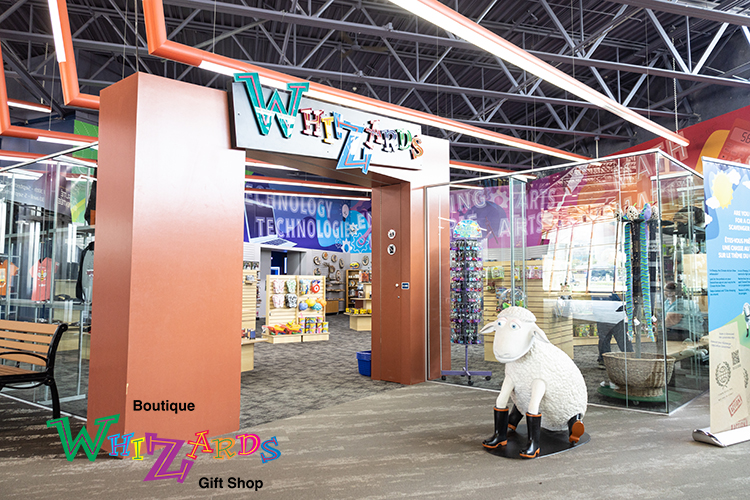 elements
Revive yourself with healthier choices in our new food court. Pick up something hot from the grill, try one of our daily specials or grab a quick snack. Enjoy your meal while overlooking Ramsey Lake from our indoor seating area or out on the new patio.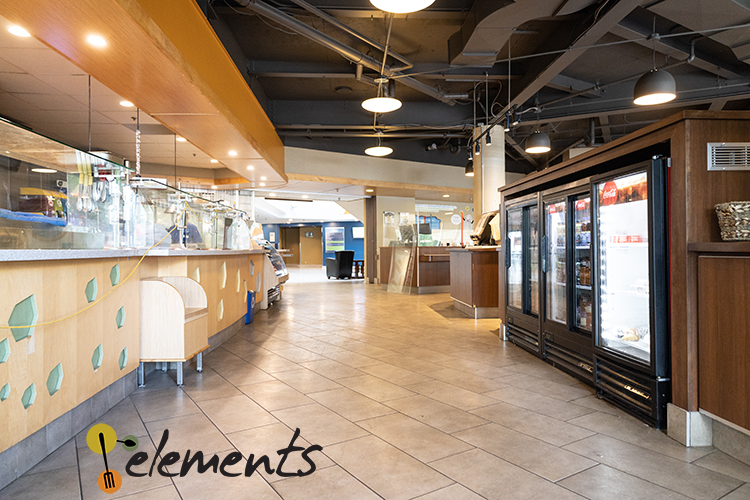 ​COCA-COLA CORNER
Whether you prefer your snacks salty or sweet, enjoy a delicious treat from Coca-Cola Corner during your IMAX® film adventure!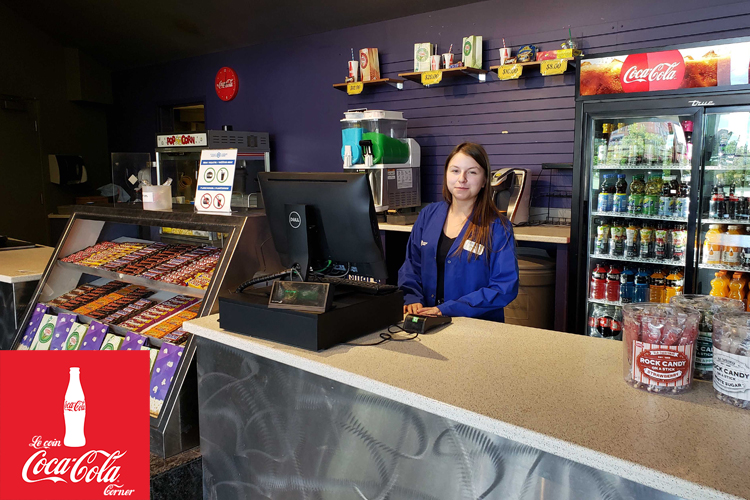 ​
UNIQUE ARCHITECTURE
A snowflake perched atop a rock crater — this is the architectural metaphor that is

Science North

. The snowflake is symbolic of the glaciation that sculpted Canada's northern landscape. A snowflake is also a crystal, the basic component of so many natural minerals. The rock crater is symbolic of the Sudbury Basin.
The Sudbury Basin is a unique geological phenomenon. One hundred kilometres wide and 15 kilometres deep, the edge of the basin is the source of nickel, copper and 15 other minerals that have made Sudbury one of Canada's largest mining centres.
The architects created two snowflakes — the smaller hexagonal building houses administration offices, a restaurant and a cafeteria. The larger hexagon, the exhibit building, rests atop a rock outcrop some 60 metres away at an elevation some 15 metres higher. The elevation difference allowed the architects to link the buildings by an underground rock tunnel beneath the exhibit building. At the end of this rock tunnel is an underground cavern, used as a theatre, an exhibit area for special displays and as an auditorium for guest presentations.
From the Vale Cavern, visitors proceed to the exhibit floors by way of a glass-enclosed ramp or by elevator. The view is dominated by a panorama of Ramsey Lake, a huge Fin Whale skeleton, and the Creighton Fault, a unique geological feature.
The exterior of

Science North

's glittering snowflakes are clad in stainless steel, the key ingredient of which is Sudbury's nickel. The architectural blend of snowflake and rock crater is the work of the same two teams of architects that were co-leaders of the original conceptual study and feasibility analysis for

Science North

.
Raymond Moriyama, who designed

Science North

, was also the architect for the Ontario Science Centre, the Metropolitan Toronto Library and the Scarborough Town Centre, and has achieved international acclaim for his work. Yallowega Bélanger Architecture of Sudbury are the architects for the

Science North

IMAX® Theatre, the F. Jean MacLeod Butterfly Gallery, the

Science North

Special Exhibits Hall and

Science North

's former Virtual Voyages motion simulator, which now houses the digital dome

Planetarium

.