PROOF OF VACCINATION IS REQUIRED TO ATTEND THIS EVENT
---
BRINGING SPOOKTACULAR FUN!
OCTOBER 2 — 30
Every Friday to Sunday in October — 7PM to 11PM
Copper Cauldron — 7PM to 10:30PM
PRICING
TIMED TICKETS TO ALLOW FOR SAFE DISTANCING
Members $11

General Public $13
Limited capacity. Admission tickets must be purchased online.
* PROOF OF VACCINATION WILL BE REQUIRED FOR ENTRY *
---
HEY MEMBERS!
The event you've been waiting on for the past two years is back! Join us at Dynamic Earth for a ghostly good time and spooktacular fun on October 1st from 7:00pm to 10:00pm!
This is your day to access our Halloween event completely FREE before anyone else!
Explore Pumpkinferno, try your luck at our haunted Spin the Wheel game, interact with special guests, play fun games, win cool prizes, and so much more! Don't miss this ghostly exclusive experience for members only!
HERE'S WHAT YOU CAN EXPECT:
🎃 A chance to win a free membership renewal on our Halloween themed

Spin to Win

game!
🎃 A chance to win a Nintendo® Switch!
🎃 Shoot your shots at our

Monster Blast

game! Knockdown all the monsters to win!
🎃 Explore

Pumpkinferno

and search in our scavenger hunt game!
🎃 Get autographs from your favourite superhero and Disney princess!
🎃 Get lost and find your way out of our maze!
🎃 ...and so much more!
Tickets must be reserved online ahead of your visit.
You will only be granted entry for the number of people listed on your membership.
You must be logged in to your member account to access your free ticket. Reserve it here.
For more details about what to expect, visit dynamicearth.ca/halloween 👻
---
Carve out family fun and excitement at Dynamic Earth this October!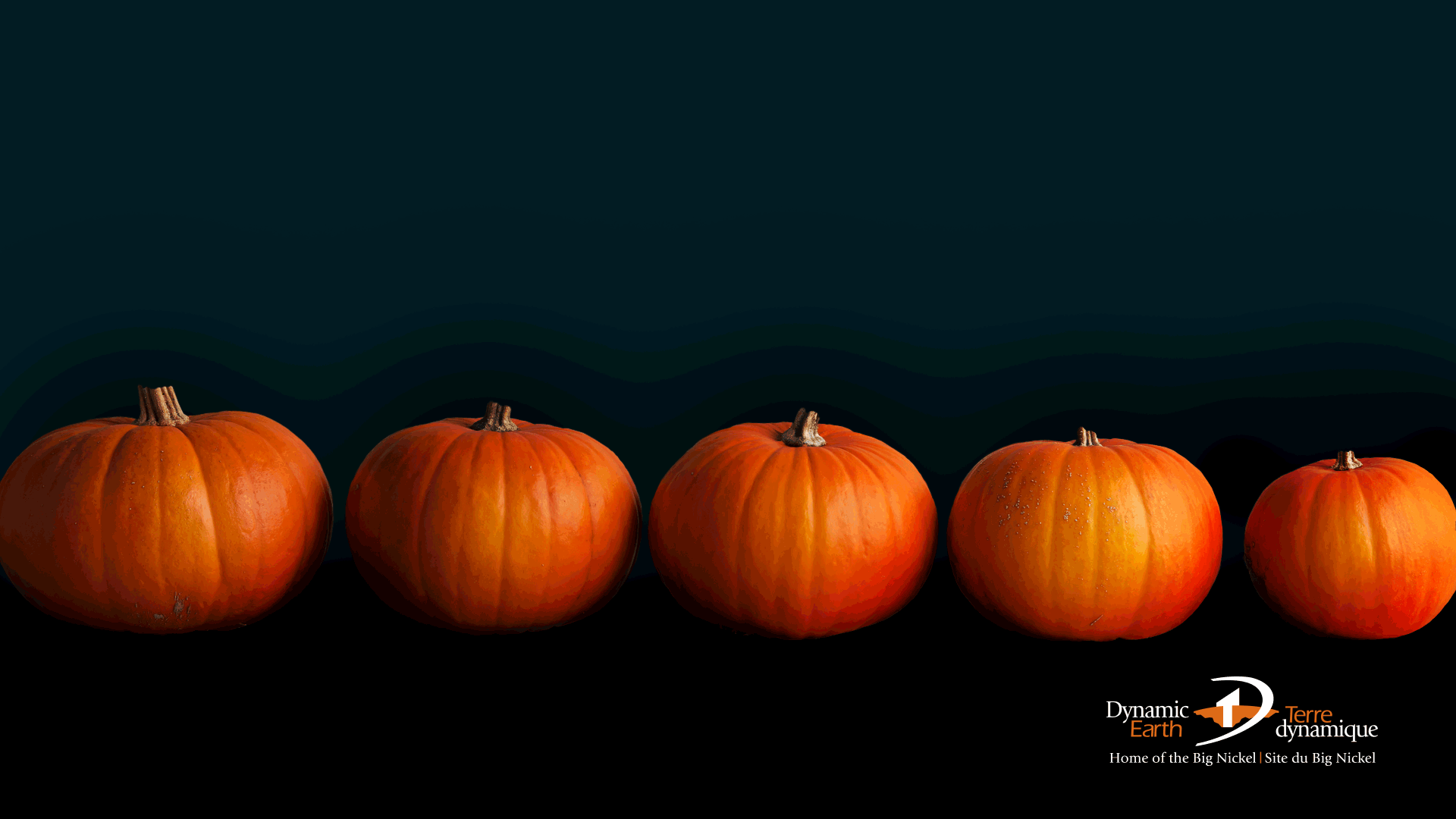 Note: Masks are required to participate in the Halloween experience at Dynamic Earth this includes the outdoor PumpkinfernoTM path. The only time you can remove your mask is when you are in the seated eating area.
Due to the COVID-19 pandemic, there will be no Tunnel of Terror this year.
---
OUTDOOR FUN
PUMPKINFERNOTM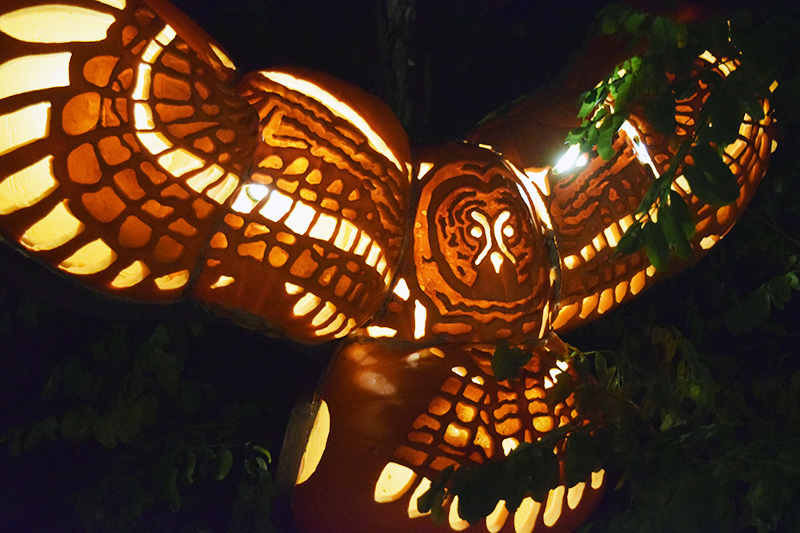 ​
The Pumpkinferno experience features 19 carved pumpkin vignettes displayed along a self-guided 250m outdoor pathway.

The Pumpkinferno trail will be a 30–40 minute experience, with food available within the Copper Cauldron located at the end of the trail.
---
SCAVENGER HUNT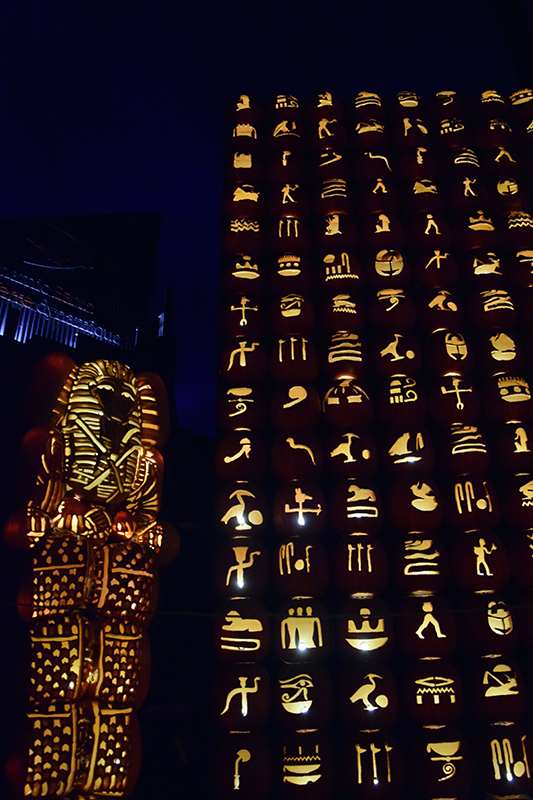 Can you spot all the hidden objects in Pumpkinferno? Find as many as you can and claim your prize on the way out!

Science Savvy Tip: Download the GooseChase app here, for streamlined access to our Halloween Scavenger Hunt. 
---
SPOOKY TALES ON THE TRAIL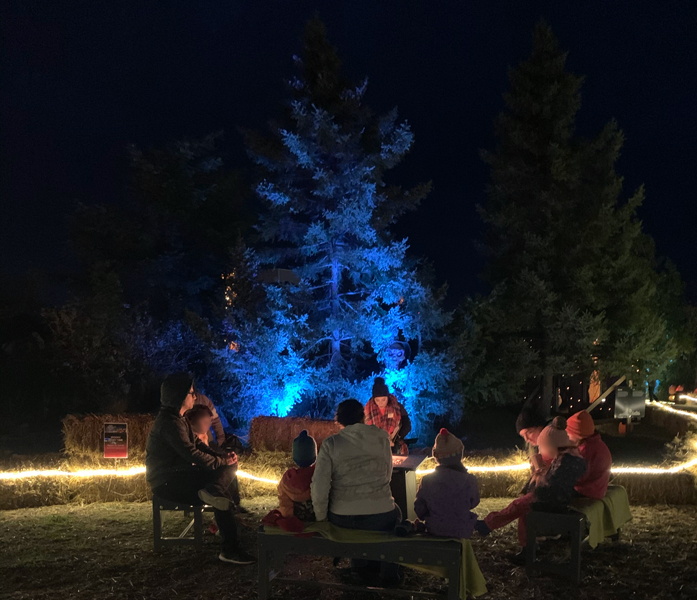 ​
Take a break during your stroll through Pumpkinferno and enjoy listening to fire-side spooky stories!
---
THE BIG NICKEL HALLOWEEN SHOW
Enjoy an animated Halloween show projected onto the iconic Big Nickel!
---
PUMPKIN VOLCANO PHOTO OPP
Be sure to grab a photo in front of our pumpkin volcano. Watch out, it tends to erupt!
---
NIGHTTIME BUBBLE GLO-SHOW
Experience bubbles that glow in the dark!
---
SEED BOMBS
Be a part of the Sudbury Regreening story by creating your very own seed bomb! These mulch paper balls filled with seeds from native flowering plants will help to beautify your very own garden.
---
SCIENCE SHOW
Join us among the pumpkins for a Spooktacular Science Show in the Outdoor Science Park.
---
COPPER CAULDRON
Come and enjoy special Halloween treats while warming up around the campfires!

Open from 7PM–10:30PM
---
STAR PARTIES
Be sure to stop by and star gaze under the Big Nickel, every Friday evening in October.
---
INDOOR FUN: Upper Level
CREEPY CRAWLY SHOW
Check out the Creepy Crawly show. You may discover these creatures aren't so creepy after all.
---
MACLEAN ENGINEERING GALLERY MAZE
Can you escape our maze? This family friendly, haunted experience is sure to hold surprises around every corner.
---
SOUND MATCHING
Have an ear for all things sinister? Match the spine-chilling sound with the animal and learn all about some of natures "scariest" animals.
---
BURIED DEEP
Soil contains so much more than meets the eye. Be the first to separate grain size and discover what exactly is in that stuff 6 feet under.
---
BUG BISTRO
Grab a free sample and take a bite, quick before they crawl away!
---
BIG NICKEL BOUTIQUE
Looking for a unique Sudbury shopping experience? Visit the Big Nickel Boutique to find locally produced and one-of-a-kind giftware, jewellery, clothing, novelties, and more.
---
INDOOR FUN: Lower Level
EXPLORA-MINE
Hidden throughout our mine are our Halloween Friends, be sure to keep a look out!
---
AUGMENTED REALITY SANDBOX
Play with lava in our AR Sandbox station located in the Rock Gallery.
---
GOLD PANNING TABLE
Not only can you pan for gold, but you can pan for witches' fingers nails and vampire blood too! Our gold panning table takes on a whole new look for Halloween.
---
FAQs
IS THERE A CAPACITY LIMIT?

Yes, we have reduced capacity limit to ensure safe physical distancing. This will be ensured with our timed tickets, as well as by counting the people entering and exiting the path.

HOW DO I PURCHASE TICKETS?

Tickets can only be purchased online. The general public and members must get their tickets by following this link.

I'M A MEMBER! HOW DO I GET MY TICKETS ONLINE?

Follow this link.

WHAT IS

DYNAMIC EARTH

DOING TO KEEP ME SAFE?

Your health and safety are our top priority. We have made some changes, so you can focus on having fun. Limited capacity for the event and activities, contact tracing, face coverings even on the outdoor Pumpkinferno path and enhanced cleaning are some of the ways in which we are working to keep you safe.

DO I HAVE TO WEAR A MASK DURING THIS EVENT?

Yes, you must always wear your mask, even outdoors on the Pumpkinferno path. Only visitors with specific medical conditions preventing the use of these will be permitted to experience Halloween at Dynamic Earth without a face covering or mask.

WILL FOOD AND DRINKS BE AVAILABLE FOR PURCHASE?

Yes, food and drinks will be available for purchase at the Copper Cauldron.

WILL I BE REQUIRED TO SOCIALLY DISTANCE FROM OTHERS?

Yes, we ask that all visitors respect and follow distancing protocols at all times by staying 2 metres apart. When present, please stand on the floor markings until the person or group ahead of you moves to the next marking.

WILL THE SPACE BE REGULARLY SANITIZED?

Yes, Bluecoats will be disinfecting and sanitizing each station and all high-touch surfaces.

WILL THERE BE ADDITIONAL HANDWASHING OR SANITIZATION STATIONS THROUGHOUT THE CENTRE?

Yes, sanitizing and increased hand washing stations will be available.
---
SUPPORTED BY
---
PARTNERS