BIGGER IS JUST THE BEGINNING
IMAX® with Laser marks a quantum leap in cinema technology. The sharpest, brightest, clearest, and most vivid digital images ever are combined with a whole new level of immersive audio. Hold onto your seats!
---
CINEMA SOCIAL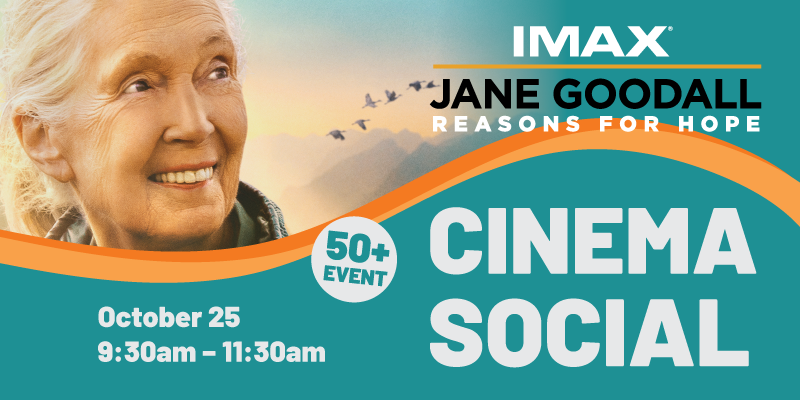 SIGHTS! CAMERA! RELAXIN'! Join us for our first ever CINEMA SOCIAL, a 50+ event which provides exclusive and unfettered early morning access to Science North! Before our doors open to the public, arrive at the science centre to meet up with friends, both old and new, for a casual and conversational jaunt throughout our facility. After that, cool your jets down with coffee, tea, and refreshments prior to sauntering into the IMAX theatre for our featured film and specially-curated guest speaker! Interested in the social component without the added strain? No problem, consider the walk optional! The key takeaway is that we've created a safe space for you and your peers to exercise in, socialize, and enjoy meaningful programming that resonates with YOU!
OCTOBER 25, 9:30am
Only $22 per person!
Includes:
9:30am — Exclusive behind-closed-doors walk throughout the science centre
10:00am — Coffee, tea, snacks
10:15am — Screening of

IMAX

film, Jane Goodall – Reasons for Hope
11:00am — David Lickley will discuss the filming process for Jane Goodall – Reasons for Hope, including behind-the-scenes stories
11:30am — Event concludes
---