SHAKE IT UP! 
Give the Gift of Memories!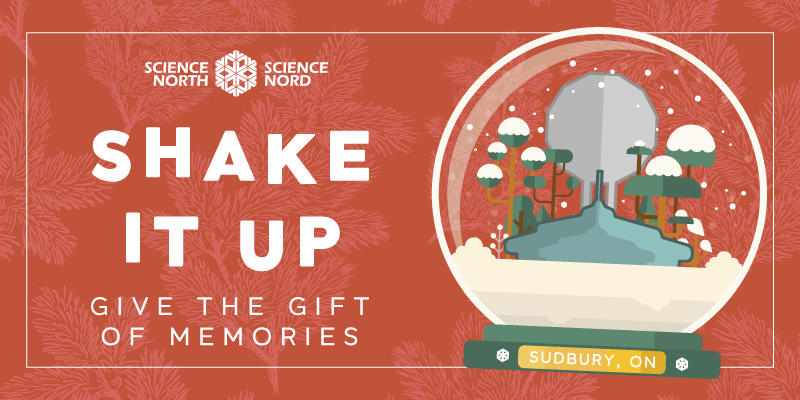 There's never been a better time to become a Science North member!
Science North members now enjoy 10% off Sudbury Wolves tickets AND YES Theatre tickets AND Kivi Park day passes!
Did you know that a Science North family membership pays for itself after TWO visits?!
---
FAMILY MEMBERSHIP
NORTHERN FAMILY MEMBERSHIP
BENEFITS INCLUDE:
Unlimited access to Science North and Dynamic Earth

Exclusive member only events

Special discounts

Early bird renewal bonus

Free parking

And more!
We've got something for everyone on your list! Explore all membership options.
---
HOLIDAY ADVENTURE CAMP (5 days)
DECEMBER 19–23, 2022 (ages 4–11)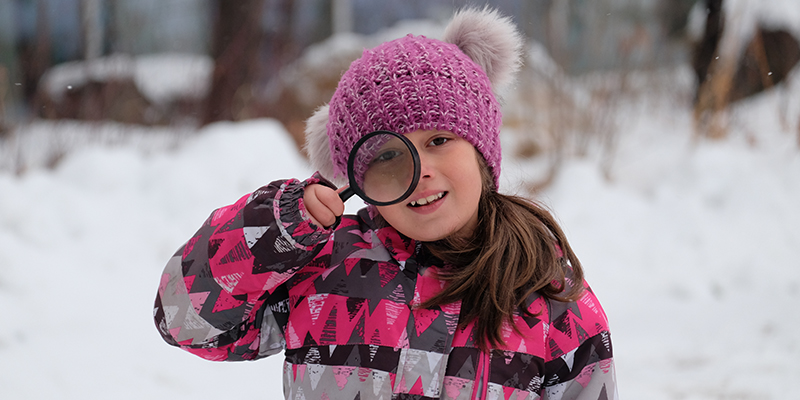 Need a break from the winter blues? Come on a holiday adventure with Science North as we explore new frontiers in science innovation. Be prepared for outside experiments!
---
HOLIDAY WORKSHOPS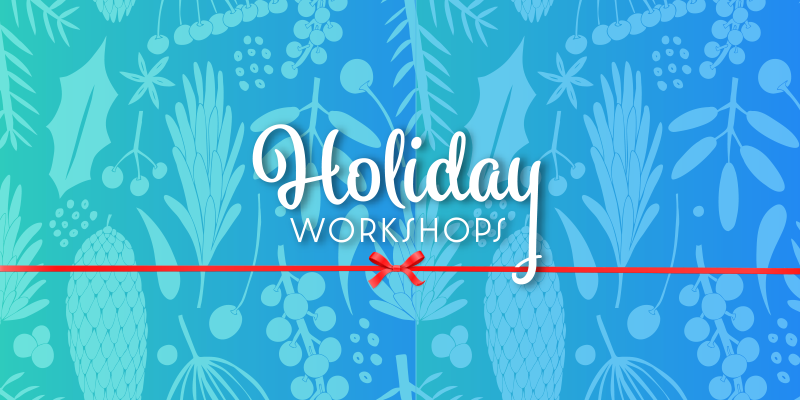 Looking for some extra fun this holiday season? Take part in our holiday workshops every weekend in December!
Included in admission to the science centre!
2nd FLOOR
HOLIDAY LAPIDARY
Shape and polish your own festive mineral – makes for a great gift!
✰ ✰ ✰ ✰ ✰
3rd FLOOR
I'M MELTING, I'M FREEZING!
Experiment with ice and learn about freezing points and the different states of water!
✰ ✰ ✰ ✰ ✰
4th FLOOR
WINTER HEXAGON
Find six bright stars that make a hexagon in the winter sky and learn the winter constellations. Take your map home to find the Winter Hexagon in the night sky!
ORGAN ORNAMENTS
Make your own organ ornaments using shrinking plastic paper!
PRESSURE COOKER PRESENTS
Make your own holiday themed ornaments and see what happens to them under pressure!
SNOWFLAKE KALEIDOSCOPE SUNCATCHERS
Catch some winter sunlight with your own colourful snowflake patterns!
---
THE FESTIVAL OF LIGHTS — SUDBURY CHARITIES FOUNDATION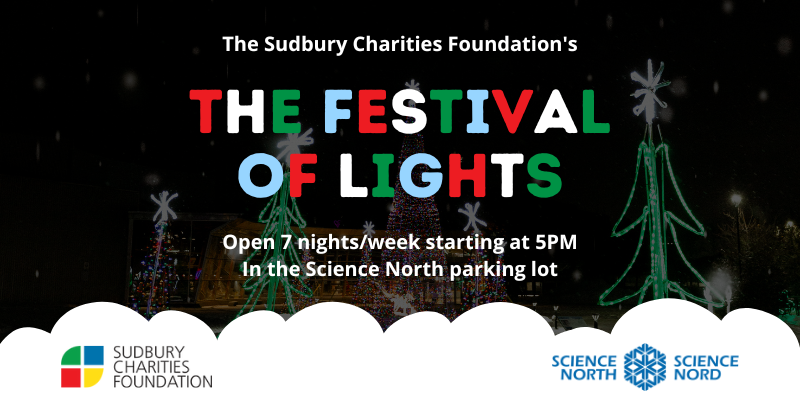 OPEN 7 DAYS A WEEK
5PM until 10PM
Science North parking lot
Admission by donation. Proceeds from the Festival of Lights are donated to underprivileged children in Sudbury.
Enjoy the outdoors and take in the holiday light scenes throughout the Science North grounds!
---
HOLIDAY HOURS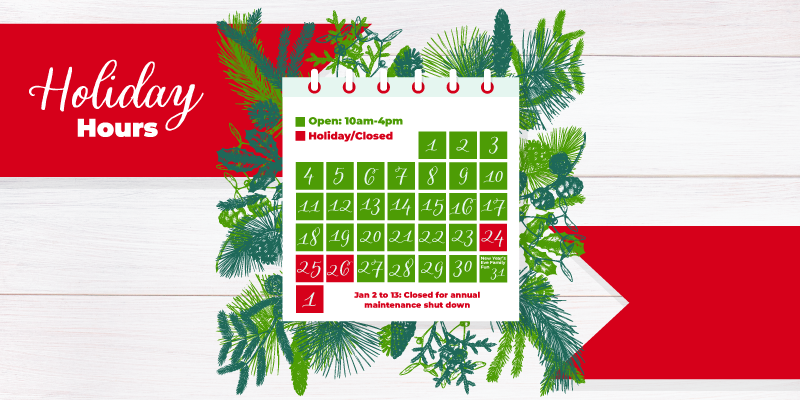 DEC 1 to 23 ✰ OPEN

DEC 24, 25, 26 ✰ CLOSED

DEC 27 to 30 ✰ OPEN

DEC 31 ✰ NEW YEAR'S EVE FAMILY FUN!

JAN 1 ✰ CLOSED

JAN 2 to 13 ✰ CLOSED

Annual maintenance shutdown