REDISCOVER YOUR SCIENCE CENTRE, ALL GROWN UP!
it's not your average place to play...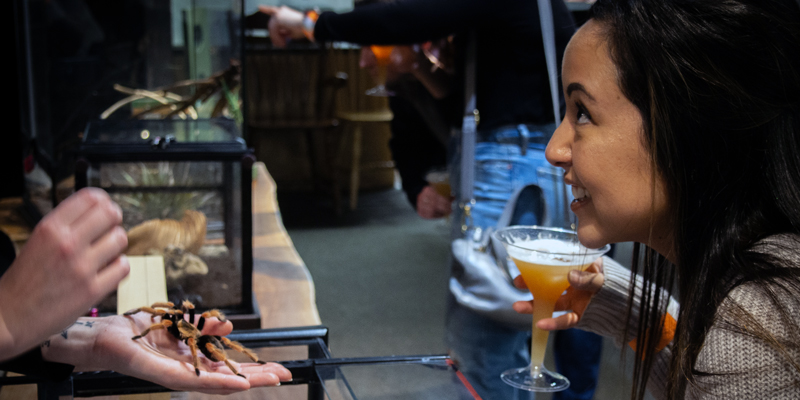 NIGHTLIFE on the Rocks is a series of nights just for adults. Enjoy an entertaining evening filled with creatures, cocktails, and concoctions as you and your friends are dazzled by our hot topics, live experts, and savvy science. It's a night out that you can't find anywhere else. What are you waiting for?
---
PREVIOUS EVENT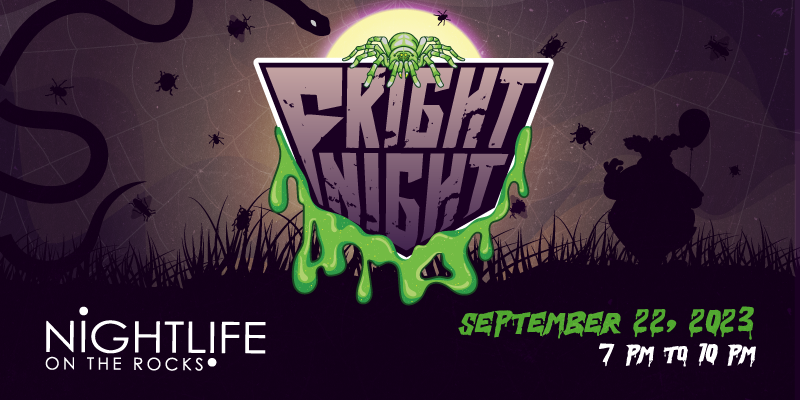 FRIGHT NIGHT 👹
SEPTEMBER 22, 7:00pm
In person at
SCIENCE NORTH
$22 General Public
$20 Members *
19+
* MEMBERS SAVE 10%!
Be afraid. Be very afraid. September 22nd won't be your typical NIGHTLIFE event; it's set to be a bona fide FRIGHT NIGHT 👹!
When you're afraid, do your palms get sweaty? Ever feared having to finish a bowl of mom's spaghetti!? By definition, phobias are irrational, but they're also extremely common, and Science North is providing the perfect 'atmosfear' to learn all about why the random can often be so terrifying! We've ensured we will have a variety of engaging activities and cold beverages available in order to help keep your nerves calm and steely throughout the evening. Just know that if you love being scared, it'll be the night of your life!
ACTIVITIES 
TRYPANOPHOHBIA – ALL NEEDLES, NO HAYSTACKS: Have you ever felt like a terrified pincushion when facing a needle? There won't be any hokey-pokey 'round these parts! This activity offers strategies for overcoming fears associated with needle injections in order to move you beyond 'just the tip'.
CLAUSTROPHOBIA – WALLS MUST FALL: Our friends at LVX have returned and they want to test your trigger points. Don't stay trapped inside a box, push your fears past their limits!
HEMOPHOBIA – A BLOODY GOOD TIME:  A? B? AB? O? Y NOT! We'll look at identifying blood types together with a fun and anxiety-free activity that works to distinguish the hemoglobin from the hobgoblins.
ACROPHOBIA – WALK THE PLANK: You're up 80 stories high so you'd better maintain your balance or else! Think you can push past your fear of heights and walk the entirety of our plank? Pirates not included.
COULROPHOBIA – TIME TO FLOAT: Pennywise? Art the Clown? Captain Spaulding? Is it the exaggerated facial features that make clowns so terrifying or does it simply come down to their bizarro unpredictability? Join us in the TechLab for some good ol' fashioned cLoWNiNg ArOuNd, IF YOU DARE!!!
LOGOPHOBIA – GIANT SCRABBLE: If you're afraid of words, get your nerve up and spell out your phobias – literally – on our giant Scrabble board! And not to worry: if you happen to have a fear of long words, we can assure you that our game board won't be large enough to accommodate the likes of hippopotomonstrosesquippedaliophobia (look it up).
PLUS SO MUCH MORE, IT'LL SCARE THE HECK OUTTA YA!!!
---
UPCOMING EVENTS
NOVEMBER 17 — Brewed in Cold Blood 🍺🥶🩸
FEBRUARY 9, 2024 — Sex, Love & Stamina 🏩
MARCH 22, 2024 — Best Buds 🫂
---
A NOTE TO MEMBERS:
We get it…no one likes to hear that their favourite science and cocktail event is no longer free with a Science North membership. But hear us out; the current global economic state has been very challenging for us all. Because of this, Science North has unfortunately had to re-evaluate some of our offerings and NIGHTLIFE on the Rocks was regrettably on that list.
We always work hard to ensure our members are valued and receive benefits for their ongoing support. Please be patient with us while we switch gears on our adult programming for members. In the meantime, enjoy a 10% discount to NIGHTLIFE events. If you have any questions or comments, please contact the New Audiences team at newaudiences [at] sciencenorth.ca.
---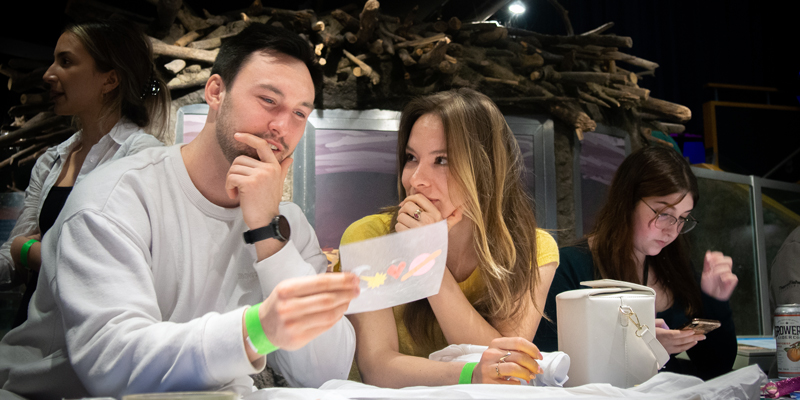 ---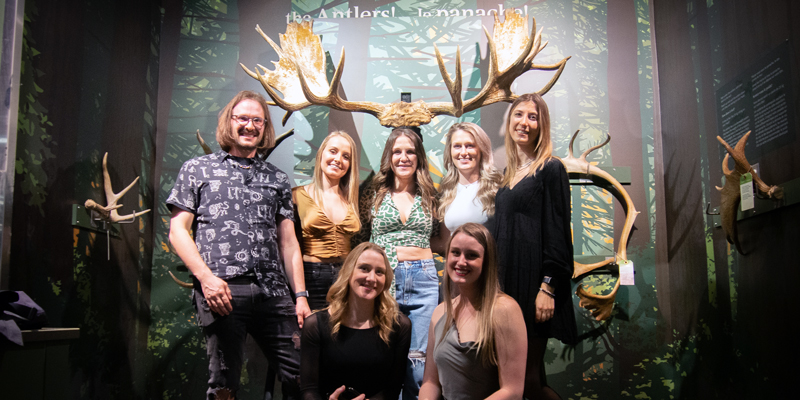 ---
What's Included? (for in-person events)
Admission to the Science Centre

Special Hands-On Activities

Live Science Shows

Guest Experts

Cash Bar and Food for Sale
* NIGHTLIFE ON THE ROCKS EVENTS ARE 19+
---
PRICING (for in-person events)
GENERAL PUBLIC
General Admission – $22
MEMBERS
$20
MEMBERS SAVE 10%!
---
FREQUENTLY ASKED QUESTIONS
WHAT ARE NIGHTLIFE ON THE ROCKS EVENTS?

NIGHTLIFE on the Rocks events are evening events for adults aged 19+ and each has a unique, adult theme. You'll also find activities, workshops, shows, presentations, guests, music, and drinks.

WHEN ARE THESE EVENTS?

We host six NIGHTLIFE events per year in February, March, May, July, September, and November.

Our July event is hosted at Dynamic Earth with all other events hosted at Science North.

All events take place on Fridays from 7—10pm.

WHERE DO I GET TICKETS?

Buy tickets online and avoid the line-up!

You can also purchase tickets at the door before and during the event.

I'M A MEMBER! HOW DO I GET MY TICKETS ONLINE?

Follow this link.

WHERE CAN I FIND EVENT INFORMATION?

For updates, you can also check out our Facebook and Instagram profiles.

We post event specific details about a month prior to the event date.

DO I GET ACCESS TO THE ENTIRE SCIENCE CENTRE?

You will have access to each of the areas of the science centre that are open. Some events will have all levels/floors open while others will not.

DO I HAVE TO SHOW UP AT 7PM SHARP?

You do not, however, we recommend arriving early on so you can fully enjoy all of the activities we have to offer.

WHAT CAN I DO AT THESE EVENTS?

Each event is specifically themed for an adult audience and features activities, workshops, and guests to fit that theme. You can play with exhibits, participate in activities and workshops, talk to guest experts, watch a show in the Discover Theatre, all while hanging out with friends, both old and new!

The majority of activities run from 7—10pm, however, shows and workshops may run on a timed schedule.

CAN I GET FOOD / DRINKS AT THESE EVENTS?

You sure can! Food and drinks are available for purchase at each event using NIGHTLIFE Bucks. Please ensure yourself a safe ride home — we'll be happy to call you a cab!

WHAT ARE NIGHTLIFE BUCKS?

NIGHTLIFE Bucks are our form of event currency. This helps to speed up the lines for food and bar by eliminating the need to count and dispense change.

1 NIGHTLIFE Buck = $5
NIGHTLIFE Bucks expire on March 31st of every year
NIGHTLIFE Bucks can be purchased at the front desk or inside of the science centre.

IS THERE A DRESS CODE?

We do not have a dress code. Wear whatever makes you feel comfortable!

IS THERE A COAT CHECK? *

We offer a free coat check throughout the winter months.

IS PARKING AVAILABLE? *

Parking for NIGHTLIFE events is free. You may also leave your car overnight if you're unable to drive it home.

WHY SHOULD I ATTEND NIGHTLIFE EVENTS?

They're super fun and meant for an adult audience! You get to hang out in the science centre while grabbing a drink and playing games with your friends. It's a chill atmosphere where we always have great music, interesting guests, and cool science!
* We are not responsible for lost, damaged, or stolen items