HOURS OF OPERATION
SCIENCE NORTH
Monday to Sunday: 10am – 4pm
DYNAMIC EARTH
Closed for the Season
Dynamic Earth will be closed for the season from October 30 through until February 16, 2024
---
ADMISSION FEES
MEMBERS
---
SCIENCE NORTH

GENERAL ADMISSION
Adult $25
Child (ages 4 to 12) $21
Youth (ages 13 to 17) $23
Senior (ages 65+) $23
---
DYNAMIC EARTH

GENERAL ADMISSION / SURFACE ONLY *
Adult $20
Child (ages 4 to 12) $16
Youth (ages 13 to 17) $18
Senior (ages 65+) $18
* This ticket DOES NOT include the underground tour, please select Dynamic Earth + Underground Tour
---
DYNAMIC EARTH GENERAL ADMISSION + UNDERGROUND TOUR
Adult $25
Child (ages 4 to 12) $21
Youth (ages 13 to 17) $23
Senior (ages 65+) $23
---
INDIGENOUS ACCESS ADMISSION POLICY
Indigenous People (self-identifying First Nations, Métis and Inuit people) can now receive general admission to both Science North and Dynamic Earth free of charge. This admission policy is a way to show our commitment to deepening engagement, relationships, and partnerships in order to advance truth and reconciliation, honour, and reflect Indigenous ways of knowing to collaborate with Indigenous Peoples as partners, in order to inspire all people to be engaged with science. 
 
Please visit our admission desk during regular hours to obtain your ticket(s). 
 
Please note this does not include parking, IMAX® films, the Planetarium, special events or programming such as camps or NIGHTLIFE on the Rocks.
---
SCIENCE FOR ALL

To ensure that our ticket price is not a barrier to access for underserved populations, Science North has launched the Science For All fund which provides free access to our science centres increasing the number of individuals, groups, schools, and communities who can access Science North facilities and experiences. Science for All ensures programs related to STEM (Science, Technology, Engineering and Mathematics) are attainable to anyone living in Sudbury and across Northern Ontario.   
To access passes through the Science For All Fund please submit your information in the corresponding form below.
 
Please note passes are for general admission to Science North and Dynamic Earth and does not include parking, IMAX® films, the Planetarium, special events or programming such as camps or NIGHTLIFE on the Rocks.
INDIVIDUALS / FAMILIES   ORGANIZATIONS
---
DYNAMIC DUO — SAVE $15!
Experience Science North and Dynamic Earth over the span of two days with a Dynamic Duo! Includes admission to both science centres, access to the special exhibitions, underground tour at Dynamic Earth, a documentary of your choice in the IMAX® theatre, and a Planetarium show.
Adult $50
Child (ages 4 to 12) $41
Youth (ages 13 to 17) $45
Senior (ages 65+) $45
AVAILABLE FEBRUARY 2024!
---
PLAY ALL DAY — SAVE $5!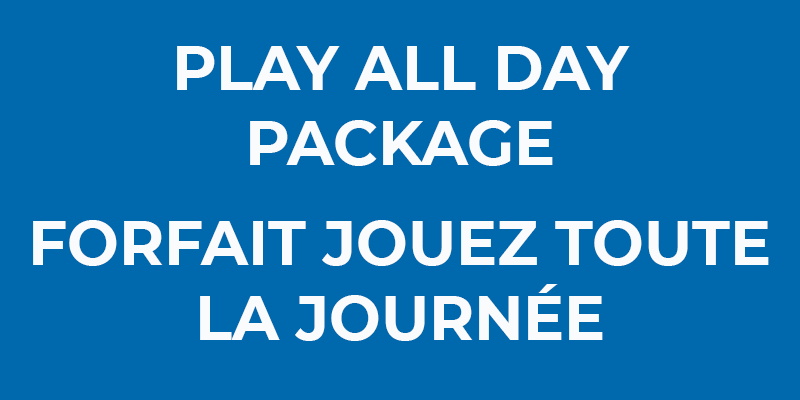 Enjoy all that Science North has to offer with the Play All Day package! This package includes admission to Science North, an IMAX® documentary, and a dome Planetarium show.
Adult $37
Child (ages 4 to 12) $31
Youth (ages 13 to 17) $34
Senior (ages 65+) $34
---
BIRTHDAY PARTIES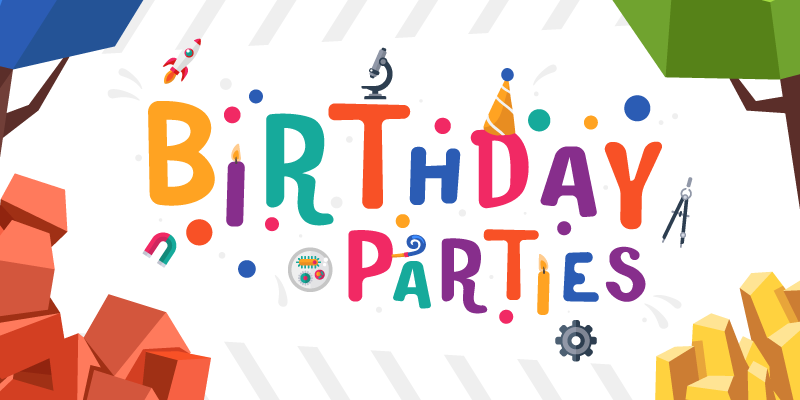 Give your child an amazing birthday party that is one of a kind with the help of our Bluecoats! Enjoy a fun-filled day with affordable prices and flexible party options. We can help make it a birthday to remember!
A FUN PARTY AT GREAT VALUE!
$320 — Includes:
Private room for 3 hours

Full day admission to Science North or Dynamic Earth and general public underground tour

Pizza lunch and juice available for purchase (bring your own cake and decorations)
Pizza and juice can be ordered based on the number of children. No outside food allowed. $24 per pizza (10 slices) and $2.50 per juice. We offer vegetable trays, fruit trays, and additional pizza slices to be pre-purchased when booking. You can book a party any time by emailing contactus [at] sciencenorth.ca or calling 705-522-3701 ext. 244
BIRTHDAY PARTY FAQs
WHAT IS INCLUDED IN THE BIRTHDAY PARTY?

A private room for 3 hours and access to the entire science centre is included in all party packages.

WHY SHOULD I CHOOSE SCIENCE NORTH OR DYNAMIC EARTH FOR MY CHILD'S BIRTHDAY PARTY?

Science North and Dynamic Earth are dedicated to offering safe, fun and educational parties to kids of all ages. We provide a stress-free service, experience and lasting memories for all who attend.

You can book a party any time by emailing contactus [at] sciencenorth.ca or calling 705-522-3701 ext. 244

WHEN CAN I ARRIVE FOR MY PARTY?

You can arrive when the center opens for the day. You will need to check in with the front desk staff. We will start setting up your Party Room 15 minutes before your scheduled time for the use of the room. If you arrive any earlier for your room, it may not be ready due to other parties occurring before yours.

WHAT AM I ALLOWED TO BRING TO THE PARTY? WHAT DO I NEED TO BRING?

Feel free to bring a Birthday Cake, cupcakes or cookies, candles, and presents. All other items are available for purchase through the center. We do not allow outside food, drinks or coolers.

We offer vegetable trays, fruit trays, and additional pizza slices.

CAN WE BRING OUR OWN DECORATIONS / PLATES / NAPKINS?

Yes, you are more than welcome to bring anything decorative that does not have to be put on walls. Plates and napkins are supplied however you can bring your own if you have themed your party. Please know that all of this is included in your party!

All our disposables are compostable or recyclable.

CAN I BRING A PIÑATA?

No piñatas please.

CAN WE BRING OUR OWN BEVERAGES?

If you have booked a birthday party with us, the only outside food we allow you to bring is a birthday cake. If you need additional drinks we offer soda, Gatorades, juice and milk at the café area. We also have water fountains available for your use.

DO YOU MAKE AN EXCEPTION FOR FOOD DUE TO DIETARY NEEDS?

Yes, if your child has food sensitivities, please let us know upon booking your party so that we can make the appropriate accommodations.

IS THERE A PLACE TO PUT PRESENTS?

Yes, in the Party Room we have tables for presents. As we are a charitable organization, there is the option for donations in lieu of gifts for the child.

WHAT IF I JUST WANT TO WALK IN AND HAVE A PARTY?

We do not allow cake or presents in our general seating area. If you would like to eat cake or open presents in our facility, please reserve a room.

WHAT IS THE AMOUNT OF THE DEPOSIT?

The deposit amount is $100. The deposit is applied to the final bill at the beginning of your party.

WHAT IS YOUR CANCELLATION POLICY?

There is a $25 cancellation fee. If you choose to cancel the party with less than a 48 hour notice, we will work with you to find another date and time to host your party or you will forfeit the full deposit. If you do not show up you will forfeit the deposit. If you choose to reschedule your party and cancel at a later date you will forfeit the full deposit. Deposits are applied to the remaining balance at the beginning of the party.

WEATHER: If weather cause the facility to close, you can re-schedule or have a refund without penalty.

CAN YOU PENCIL ME IN AND HOLD THAT PARTY SPOT?

Unfortunately, we cannot pencil anyone in because we are required to have a deposit to hold the spot.

CAN I USE GIFT CARDS OR COUPONS TOWARDS A PARTY BOOKING?

You are welcome to use a gift card towards the payment of your party.

WHAT IS THE MAXIMUM NUMBER OF GUESTS I CAN HAVE AT MY PARTY?

The maximum number of people would be 20. This is due to room size constraints. If your party grows to larger than 20, we would consider it on a case by case basis. Additional fees may apply.

WHAT IS A GOOD TIME TO CALL IN ADVANCE FOR A PARTY?

To ensure you get the time and date you prefer, we would recommend booking your party at least 2 weeks before the party.

ARE AGES 4 AND UNDER FREE WITH PARTIES?

Yes, children 4 and under would be free. There would be an additional charge for food if they were to be included in the lunch.

DO YOU DO PARTIES ON WEEKDAYS?

No, unfortunately, due to space limitations, we only host parties on Saturdays and Sundays.

IF I AM ATTENDING A PARTY, CAN I STAY ONCE THE PARTY IS OVER?

Your party admission to the science center is good for the entire day.

WILL THE OUTDOOR SCIENCE PARK BE AVAILABLE FOR US TO ENJOY?

The science park opens sometime in May depending upon weather and is open daily until our closing day in late September. If there is inclement weather such as heavy rains and the threat of lightening, the park would be closed during these times.

DO WE GET A PARTY HOST WITH THE PARTY ROOM?

No, but you will have a staff member bring you your food and help serve. Someone is available if you have any other needs or concerns. A private party host is available for a fee. If you are interested in a Private Host, please indicate at the time of your booking.

WHAT ELSE CAN I ADD TO MY PARTY?

You can add the following items to your party table:

Pizza slices
Vegetable tray
Fruit tray
1 hour Private Party Host

IS THERE AN AGE LIMIT?

We recommend parties for children between the ages of 4 and 12.

HOW IS MY PARTY RUN? WHAT IS THE SCHEDULE OF THE PARTY?

You will have the private party room which was pre-booked for 3 hours.  for your lunch, cake, and presents. You are able to enjoy the center before and after that time during the center's operating hours.
---
GIFT CARDS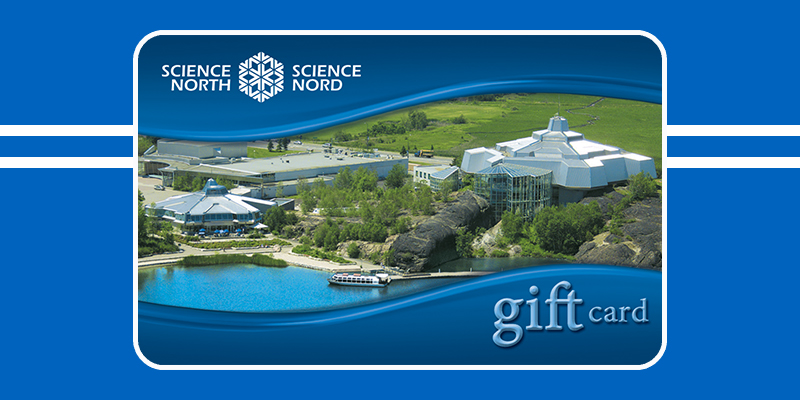 For the person who has everything – a valued employee or a special client you may be trying to impress – our gift cards make for a fantastic gift! Redeem them and discover all of the wonderfully unique experiences our science centres have to offer!
---
PARKING
First hour: FREE
$2 per hour with a max rate of $6 a day 
24/7
Gate will be open for special events and the Sudbury Market
PARKING RATES MAY VARY DEPENDING UPON DAYS OF OPERATION
Paid parking is in effect 24/7 except for certain special events. Members can validate their parking at the front desk.
---
MAP

Science North is at 100 Ramsey Lake Road.

Dynamic Earth – Home of the Big Nickel is located at 122 Big Nickel Road.
View Science North & Dynamic Earth in a larger map