Wow, what an amazing school year! We had so much fun spending PA Days with your kids! We want to thank you for being part of that adventure and look forward to 2021 and all the excitement that will bring!
---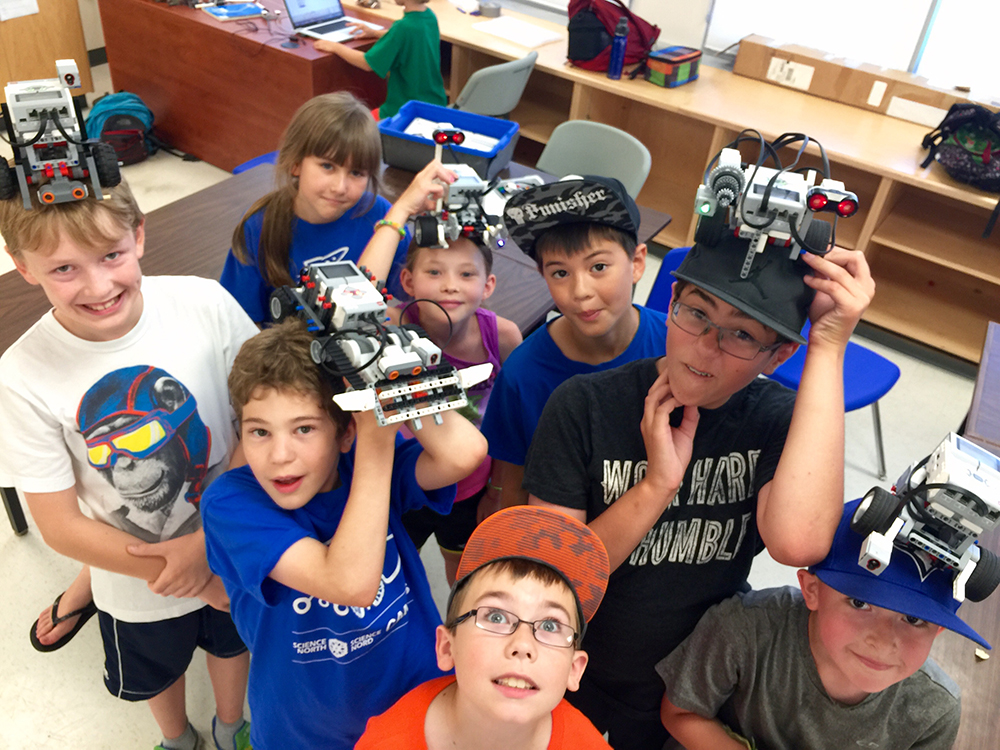 ​
Save 10%!
A discount of 10% will be applied when two or more registrations are booked at the same time.
Where do I go when I arrive?
AT SCIENCE NORTH

Science North

Staff will meet participants and their parents in the Laamanen Room which is just inside the "small snowflake" across the cafeteria on the main floor. Enter main lobby, walk to the far end, turn right, and the Laamanen Room is at the end of this hall. This is our program "base" at this site.
 

AT DYNAMIC EARTH

Dynamic Earth

staff will be set up in the front lobby and will direct you to where you will sign in and out every day.
 

IN THUNDER BAY

Our main office is located at Boys and Girls Club at 270 Windsor St. Parents will be contacted by phone or email if there are site changes.
---
Sudbury LocationS:
SCIENCE NORTH

,

100 RAMSEY LAKE RD.

/

DYNAMIC EARTH

,

122 BIG NICKEL MINE DR.

March Break Madness
SCIENCE NORTH
March 16–20, 2020 (Five-Day Camp)
Ages 4 – 11

It's a full week of action–packed experiments, activities and fun for the budding scientist in your family! From exploring nature, to venturing off to space, and creating concoctions, each day brings a new theme and new chance to discover the wonders of science!
---
March Break Dash!
DYNAMIC EARTH
March 16–18, 2020 (Three-Day English Camp)
March 19–20, 2020 (Two-Day French Camp)
Ages 4 – 11
Send your kids to a mini, 3 or 2 day March Break camp at Dynamic Earth – packed with experiments, activities and fun! From exploring the earth (whether above or underground), each day brings a new theme and new chance to discover the wonders of science.
---
Break that Record!
SCIENCE NORTH
April 24, 2020
Ages 4 – 11
Can you beat the world's best? Join us for a day of discovery and wonder as we explore the science of making a world record! Children will discover their own unique talents as they try out popular record-breaking challenges!
---
Arctic Explorers
DYNAMIC EARTH
June 15, 2020
Ages 4 – 11
Your expedition starts at Dynamic Earth where children will dive deep into the underground world of the Arctic. Through hands-on experiments, interactive models and exciting games, kids will explore the sights and sound that are usually hidden underground to learn about the Earth's past and future. This will be the "coolest" PA day program.
---
Thunder Bay Location: Boys and Girls Club, 270 Windsor St.
March Break Dash!
March 16–18, 2020 (Three-Day Camp)
March 19–20, 2020 (Two-Day Camp) 
Ages 4 – 10
Send your kids to a mini, 3 or 2 day March Break camp – packed with experiments, activities and fun! From exploring the earth (whether above or underground), each day brings a new theme and new chance to discover the wonders of science!
---
Dino Adventure
May 1, 2020 
Ages 4 – 10
Journey back in time to when dinosaurs ruled the world! Your young explorer will find out what it's like to be a real-life paleontologist, will examine actual dinosaur fossils and create their own fossil casts to take home. Children will also learn about the different characteristics and traits of dinosaurs and use their imagination to build their own model dinosaur.
---
Break that Record!
June 12, 2020
Ages 4 – 10
Can you beat the world's best? Join us for a day of discovery and wonder as we explore the science of making a world record! Children will discover their own unique talents as they try out popular record-breaking challenges!
---
PA DAY & HOLIDAY CAMPS FAQs
What time does the PA Day/Holiday Camp start?

Group work starts at 9:00am, and finishes up around 4:00pm. See the daily itinerary for a breakdown of our day. Staff are onsite at 7:30am until 5:45pm.

What time do early / late programs start and finish?

The extended hours option starts at 7:30am and runs until 5:45pm. Our experience is that children react best to this slot when it is not highly structured versus the rest of their day. You may walk into a room where children are building with blocks, having a card game, drawing pictures, or playing with some other materials. Staff is there to interact and play as well, but we don't push structured groups at this time. The activity choice is up to the child.

What is the attendance policy?

Parents are asked to sign their child in every morning, and out every evening in all of our programs. In order to ensure the safety of your child, you or your designated caregiver may be asked for ID at pick-up time, so please be prepared. Science North will call the parent of any participant who was not signed out to ensure they have arrived home safely. If your child will be leaving early, please notify the Program Coordinator at each site, and arrangements will be made to have your child ready at the appropriate time. If your child is late in arriving at the Sudbury sites, please check in with the staff at the Sales Centre who will contact your child's group leader so he/she can join their group.

Why do I have to show Photo ID when I pick up my child?

Photo ID is the simplest system for us to match a face and the name that you have provided as your designate for pick-up. We want to make sure we have the right name and the right person so that all the right family connections are made in your best interests.

What is the background experience of your staff?

We have a talented group of young people with a passion for children, science education and Northern Ontario. Their educational profiles can range from teachers and science graduates to post-secondary students in topics as diverse as speech pathology or physics. All staff must have a current police check for the vulnerable sector.

How can I contact the program when it is in progress?

All sites have a cellphone for use by the site supervisor. He/she will display that number near your sign in/out sheets at each location. If you cannot reach the site supervisor by cell, call Science North at 1-800-461-4898 and they will connect you with someone who may have alternate communication methods.

Should I provide a snack for my child?

Yes, we strongly suggest you send some kind of snack to keep your child going. Some children will arrive onsite at 7:30 am (if it's an option) and lunch isn't until noon. We take a snack break mid-morning and afternoon, and anything as simple as an apple or crackers makes a difference.

What should my child wear?

The weather of the day will dictate how much we are in and outside. Since there's a chance for an impromptu game of soccer at lunch or a walk onsite, please make sure your child has appropriate footwear and is wearing clothes you are comfortable with getting dirty (just in case!)

Should my child bring his/her cellphone or other electronics?

We strongly recommend against sending your child with electronic gizmos that could accidentally be damaged or lost.

How do I find out what you have planned for the day?

Each location will have a copy of their program outline for the day in the area where you sign in and out. However, please ask our staff about your child's day, and what kind of activities happened in their group.

What if my child has special inclusion needs?

We welcome children with special needs; however, our programs are not able to support all needs. Science North cannot provide a 1:1 staff/child ratio. If your child has help at school, consider how they will do without that assistance. Please talk with the Science North team to review your individual child's situation prior to registration by calling 1-800-461-4898.

What if my child isn't the right age for the program I want to register in?

We try to accommodate whenever we can. So, if your 9-year-old-niece wants to hang out with her 8-year-old cousin, we can find a way to make that work. The only place we draw the line is at the younger end of the age spectrum. The program is designed for 4 and up, not for 3 year olds.

What happens if my child is sick?

Please let us know as soon as you can. Call 1-800-461-4898 to determine whether your child will be joining, or if we can try to reschedule them to another PA Day throughout the year.

Can I buy a lunch package or do I send one with my child?

A lunch option is available in Sudbury only, where we can take advantage of our excellent cafeteria or the Copper Café at Dynamic Earth. Healthy yet kid-friendly options including pizza, wraps, sandwiches, or chicken fingers may be available. The price is usually $9 per day and we recommend preordering.

What if there is a medical emergency?

In the event of a medical emergency, all appropriate first aid measures will be taken to ensure the safety of participants. Staff members are not permitted to administer any type of medication to participants, and parents will be asked to verify that their child can self-administer. A staff member certified in first aid is on hand at all times. In the case of site evacuations (ie. power outages) parents will be phoned to pick up their children. Each site has a cell phone, and will remain in contact with Science North through any emergencies.
ALLERGY ALERT: When your child is bringing his or her own food, please be aware of allergies and avoid sending nut products. If there are extreme allergies within the group, we will post that information at each site.
Registration and Cancellation Policies
Registrations are processed on a first-come, first-served basis.
Programs require a minimum of three participants to run. Science North reviews registrations on a daily basis, and if a program has less than three registrations two weeks before its start date, parents will be notified that the program has been cancelled. All other registrations close 48 hours prior to the program start date. 
Registration Tips
When you are looking at program choices for your community, you may see the following comments beside the program name. See below for a detailed description of those comments:
Online registration is closed: This means that the program has started and we can no longer take registrations online.
 
Registration closed: This means that the program is full and no more registrations are accepted and based on local resources cannot add any more extra spots to this program. Wait list option is not available when registration is closed.
 
What's a waiting list?: When a program's capacity is filled, we start a waiting list for interested families. We monitor these lists regularly and do our best to add another program if there is a sufficient amount of interest. To add your child to a waiting list, complete the online registration where you will be asked if you would like this option. If you do not have access to online registration, please call 1-800-461-4898 to be added to a waiting list in your area.
Cancellation by a Registrant
Registrants may cancel their registration prior to the commencement of their program with the following refunds:
If cancelled 14 or more business days prior to the start of the program, the full registration fee will be refunded, minus a $15 (plus applicable taxes) service charge.
 
Cancellations up to two business days before the program start date will be subject to a service charge of $30 (plus applicable taxes).
 
Cancellations less than two business days before the program start date will not be refunded.
For more details, call 1-800-461-4898.
Cancellation by Science North
Science North reserves the right to cancel programs with insufficient registration. In this case, a full refund will be issued. All existing registrants will be notified by phone or email two weeks prior to a possible cancellation. Participants may also be asked to leave a program if there are concerns about participant safety.
Non Payment
A $50 (plus applicable taxes) service charge will apply to any dishonoured credit card payments or NSF cheques. Science North's liability is limited to refund of registration fees.