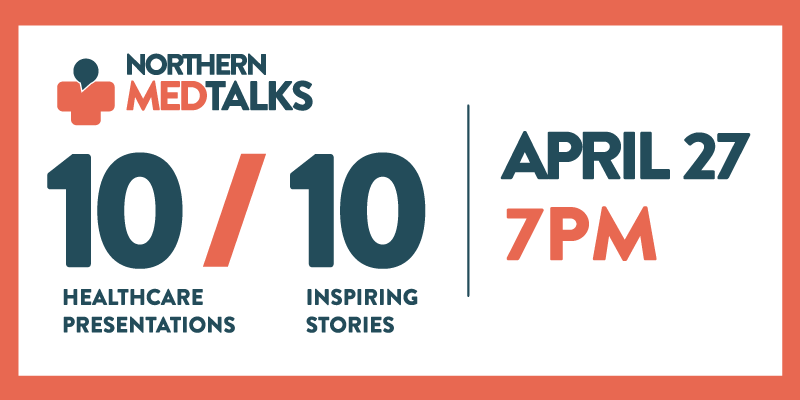 APRIL 27, 2023
7:00pm–9:00pm
Science North's Vale Cavern
FREE admission, space is limited.
Presented in English and ASL interpretation.
A live link will be available to experience virtually!
---
Science North and the Science Communication Program at Laurentian University are excited to collaborate with Eastlink to bring you Northern MEDTalks 2023!
A fast-paced speakers event featuring 10 presentations by Northern Ontario healthcare providers. Each 10-minute talk will inspire audiences through engaging stories about human health.
You'll connect with powerful narratives from physicians, nurse practitioners, researchers and more!
SOCIAL HOUR
9pm to 10pm
For those attending Northern MEDTalks 2023 on-site at Science North, join us after the presentations for a social hour in the Science North Lobby to discuss the night's stories with speakers and fellow guests.   
 
Refreshments will be available for purchase and guests will have access to the special exhibition, Dinosaur Discoveries.
WAYS TO WATCH
Live in-person presentation in the Vale Cavern
Enjoy Northern MedTalks at home! A livestream will be available on this webpage and on Eastlink Community TV on April 27 beginning at 7pm (no ticket required)
This event will be presented in English with ASL interpretation. Accessible seating for visitors using mobility aids will be available in the Vale Cavern. If you require interpreter-proximity seating, please indicate this when you request your ticket.
Maximum 2 tickets per person.
PLEASE CONSIDER SUPPORTING NORTHERN MEDTALKS!
When you reserve your free ticket, you will see the option of supporting our Science for All fund. The Science for All fund provides financial support to increase the number of individuals, groups, schools, and communities who can access Science North facilities and experiences, creating equitable access for all. This innovative fund ensures programs related to STEM are accessible to anyone living in Sudbury and across Northern Ontario.
TICKETS COMING SOON!
Enter the amount you wish to donate per ticket or enter $0 if you don't wish to donate today.
---
SPONSORED BY