For over 30 years, Science North has offered fun, unique, and educational summer science camp experiences to over 25,000 children ages 4–12 across Ontario!
---
THANK YOU FOR AN INCREDIBLE 2023 SEASON!
SAVE THE DATE! REGISTRATION FOR 2024
Members: Tuesday February 20, 2024 — 8am EST
Public: Monday March 4, 2024 — 8am EST
MEMBERS SAVE 10% ON ALL CAMPS REGISTRATIONS!
---
ABOUT US
Since 1987, Science North has been delivering English and French summer science camp experiences to children in communities across Ontario. Science North offers children the opportunity to get hands-on with real tools, engage in modern science, and most importantly, socialize and have fun with friends!
As STEM (science, technology, engineering, and math) becomes increasingly more popular in the 21st century, it's important for kids to enjoy science and the world around them. We hear over and over again from parents that we DO this, and do it well. 
Science North's highly trained staff recognize their impact and influence on the thoughts and opinions of children. Through engaging activities and workshops the science camps spark natural curiosity while inspiring a love for science! From nature-themed camps to animal adventures, to technology-based programming, there is sure to be a camp that appeals to every science lover!
---
2024 PRICING
MEMBERS SAVE 10% ON ALL CAMPS REGISTRATIONS!
4-DAY CAMP
Members: $191.48 / Public: $212.75
5-DAY CAMP
Members: $232.88 / Public: $258.75
4-DAY SPECIALTY CAMP
Members: $242.19 / Public: $269.10
5-DAY SPECIALTY CAMP
Members: $289.80 / Public: $322.00
Buy more than one camp and get 10% off the same order!
---
LOCATIONS
ATIKOKAN | August 6–9
BARRIE | July 15–19; July 22–26; July 29–August 2
BLIND RIVER | July 15–19
BRACEBRIDGE | August 6–9
COCHRANE | July 15–19
DESBARATS | July 2–5 
DRYDEN | July 8–12; July 15–19; July 22–26; July 29–August 2; August 6–9
ELLIOT LAKE | July 8–12
ESPANOLA | August 12–16
FORT FRANCES | July 15–19; July 22–26; July 29–August 2
GORE BAY | August 6–9
GRAVENHURST | July 29–August 2
HEARST | July 2–5
HUNTSVILLE | July 29–August 2; August 6–9; August 12–16
KAPUSKASING | July 8–12
KENORA | 8 weeks of camp from July 2–August 23
KIRKLAND LAKE | July 29–August 2
LITTLE CURRENT | July 29–August 2
MARATHON | July 8–12
MIDLAND | July 2–5; July 8–12; July 15–19
NIPIGON | August 22–26
NORTH BAY | 8 weeks of camp from July 2–August 23
ORILLIA | July 2–5; July 8–12; July 15–19
PARRY SOUND | August 6–9; August 12–16
PEMBROKE | July 2–5; July 8–12; July 15–19; July 22–26
PENETANGUISHENE | July 22–26
RED LAKE | July 8–12
SAULT STE. MARIE | 8 weeks of camp from July 2–August 23
SIOUX LOOKOUT | July 2–5; August 12–16
STURGEON FALLS | August 12–16
SUDBURY | 9 weeks of camp from July 2–August 30
TERRACE BAY | July 15–19
TEMISKAMING SHORES | August 6–9; August 12–16
THUNDER BAY | 8 weeks of camp from July 2–August 23
TIMMINS | July 22–26
WAWA | July 2–5
---
2024 FREQUENTLY ASKED QUESTIONS
WHERE IS CAMP IN MY TOWN?

When you click on your community, you will see the address of the site beside the town name as soon as it is confirmed. Locations are confirmed for around June.

WHAT TIME DO CAMPS START?

Group work starts at 9:00am, and finishes up around 4:00pm. (See the daily itinerary for a breakdown of our day.) There is staff onsite at 8:30 until 4:30pm unless you are in a community with extended hours available. The communities with that option include Thunder Bay, Sault Ste. Marie, Sudbury, North Bay, and Kenora.

WHAT TIME DOES THE EARLY / LATE PROGRAM START?

The extended hours option starts at 7:30 am and runs until 5:45 pm. It is available in Thunder Bay, Sault Ste. Marie, Sudbury and North Bay. Extended hours in Kenora will start at 8:00 am and run until 5:00 pm. Our experience is that children react best to this slot when it is not highly structured versus the rest of their day. You may walk into a room where children are building with blocks, drawing pictures, or playing with some other materials. Staff are there to interact and play as well, but we don't push structured groups at this time...the activity choice is up to the child.

Price: $45

WHAT IS THE BACKGROUND OF YOUR STAFF?

We have a talented group of young people with a passion for both children and science education as part of our crew. Their educational profiles can range from teachers and science graduates to post-secondary students in topics as diverse as speech pathology or physics. We look for people who like children, like science, and enjoy all that Northern Ontario has to offer. All staff must have a current police check for the vulnerable sector.

WHAT DO I BRING WITH US / DO ON THE FIRST DAY?

On the first day:

Please inform our staff of any special medical concerns relevant to your child.
Provide updated emergency contact information for your child.
Bring photo ID when you or your designate picks up your child.
We may require proof of age. It is important that participants be the required age for the program because activities are designed with the capabilities of that age group in mind.

WHY DO I HAVE TO SHOW PHOTO ID WHEN I PICK UP MY CHILD?

Parents are asked to sign their child 'in' every morning, and 'out' every evening. Photo ID is the simplest system for us to match a face and the name that you have provided as your designate for pickup.

Science North will call the parent of any participant who was not signed out to ensure they have arrived home safely. If your child will be leaving early, please notify the Program Coordinator at each site, and arrangements will be made to have your child ready at the appropriate time.

HOW CAN I CONTACT THE CAMP WHEN IT IS HERE?

Every camp site has a cellphone for use by the site supervisor. He/she will display that number near your sign in/out sheets at each location. If you cannot reach the site supervisor by cell, call Science North at 1-800-461-4898 and they will connect you with someone who may have alternate communication methods.

CAN I BUY A LUNCH PACKAGE OR SNACKS?

Science North doesn't offer any food packages or snacks. You must provide food for your child. We strongly suggest you send some kind of snack along with their lunch to keep your child going. Some children will arrive onsite at 7:30am (if a site option) and lunch isn't until noon. We take a pause / snack break mid-morning and afternoon, and anything as simple as an apple or crackers makes a difference.

WHAT SHOULD MY CHILD WEAR?

Our program encourages both indoor and outdoor exploration and play. The weather of the day will dictate how much time is spent outdoors. However, please ensure your child has appropriate footwear and is wearing clothes you are comfortable getting dirty (just in case). We also recommend proving an exchange of clothing.

SHOULD MY CHILD BRING HIS / HER CELL PHONE OR OTHER ELECTRONICS?

We strongly recommend against sending your child with equipment that could accidentally be damaged when dropped or explored by other children. No one likes to lose things, so we suggest if possible that electronic 'gizmos' stay at home that week.

INCLUSION NEEDS?

We welcome campers with special needs; however, our camps are not able to support all needs. Science North cannot provide a 1:1 staff / child ratio. Please speak with the Science North team to review your individual child's situation prior to registration (1-800-461-4898).

WHAT IF MY CHILD ISN'T THE RIGHT AGE FOR THE PROGRAM I WANT TO REGISTER IN?

This is a great question, and we try to accommodate whenever we can. If your 9 year old niece wants to hang out with her 8 year old cousin, we find a way to make that work. The only place we draw the line is at the younger end of the age spectrum. The camp program is designed for 4 and up; not for 3 year olds.

WHAT HAPPENS IF MY CHILD IS SICK OR HAS HEALTH CONCERNS?

If your child is sick please keep them at home. Contact us to see if we can try to reschedule them to another camp.

Staff members are not permitted to administer any type of medication to participants, and parents will be asked to verify that their child can self-administer. If your child has ongoing medical conditions, please make sure you have talked to staff before hand.

WHAT HAPPENS IF MY CHILD GETS SICK ON-SITE?

There will be kids who develop an upset tummy, or exhibit symptoms that are common to a variety of ailments. If those symptoms are common to COVID-19, we will separate the child in question and call you to pick up your child.

EMERGENCY PROCEDURES

In the event of an emergency, all appropriate first aid measures will be taken to ensure the safety of participants. A staff member certified in first aid is on hand at all times. In the case of site evacuations (ie. power outages) parents will be phoned/texted to come and pick up their children. Each site has a cell phone, and will remain in contact with Science North through any emergencies (The cell phone number will be posted where the sign in/out sheets are).
ALLERGY ALERT: When your child is bringing his or her own food, please be aware of allergies and avoid sending nut products. If there are extreme allergies within the group, we will post that information at each site. 
---
REGISTRATION AND CANCELLATION POLICIES
REGISTRATION INFORMATION

Registrations are processed on a first-come, first-served basis. Camps require a minimum of 4 participants to run. Science North reviews registrations on a daily basis, and if a camp has less than 4 registrations 2 weeks before its start date, parents will be called and the camp will be closed. 

If a camp has more than 4 registrations, registrations are closed the Thursday evening prior to the camp start date. (For example: Let's say camp starts July 8th. Registrations would be closed on, July 4th at 9:00pm.)

CANCELLATION BY A REGISTRANT

Registrants may cancel their registration prior to the commencement of their camp with the following refunds:

If cancelled 14 or more business days prior to the start of the camp, the full registration fee will be refunded, minus a $20 (plus applicable taxes) service charge.
Cancellations up to two business days before the camp start date will be subject to a service charge of $40 (plus applicable taxes).
Cancellations less than two business days before the camp start date will not be refunded.

For details, call 1-800-461-4898.

CANCELLATION BY

SCIENCE NORTH

Science North reserves the right to cancel camps with insufficient registration. In this case, all existing registrants will be notified, and a full refund will be issued. All existing registrants will be notified by phone or email two weeks prior to a possible cancellation. 

Science North has a zero-tolerance policy regarding violent behaviour in our camps. Participants may be asked to leave a program if there are concerns about participant and employee safety. Please note that refunds will not be issued should your child be asked to leave the program.

LACK OF PAYMENT

A $50 (plus applicable taxes) service charge will apply to any dishonoured credit card payments or NSF cheques. Science North's liability is limited to refund of registration fees.
---
Questions?
For more information, email camps [at] sciencenorth.ca or call 1-800-461-4898 ext. 338 (Monday–Friday, 9am–5pm).
---
WHY SEND YOUR CHILD TO SUMMER SCIENCE CAMPS?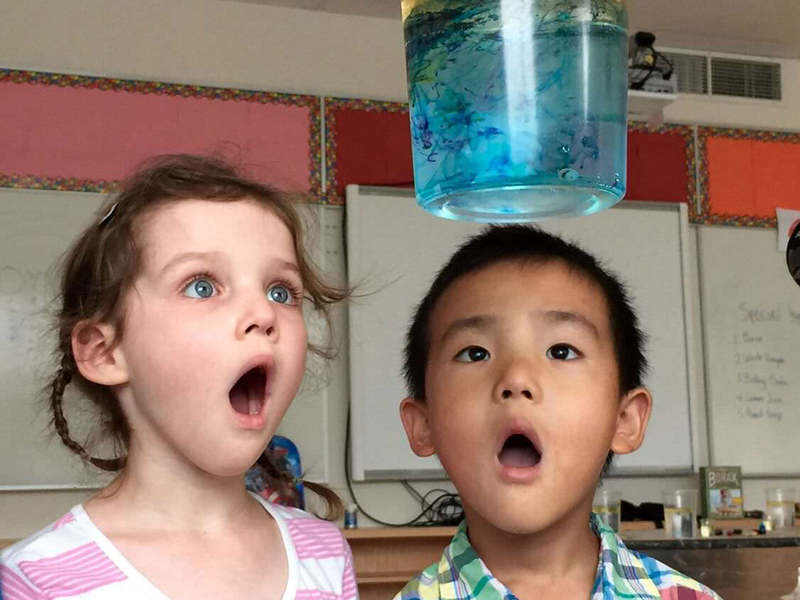 Camp will spark your kid's naturally curious mind while inspiring a love for science that will benefit your child for the rest of their life.
---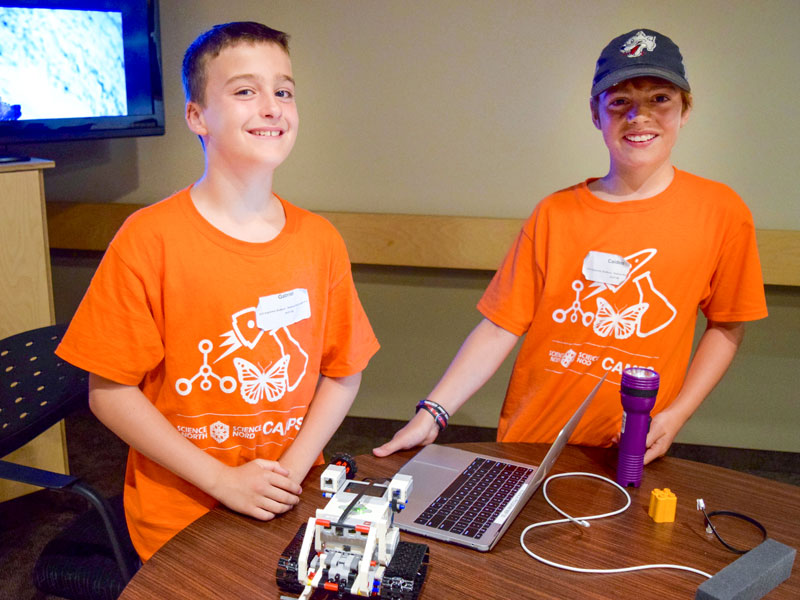 Encouraging your child to take an interest in STEM (science, technology, engineering and math) at an early age gives them a sense of confidence in what they are learning.
---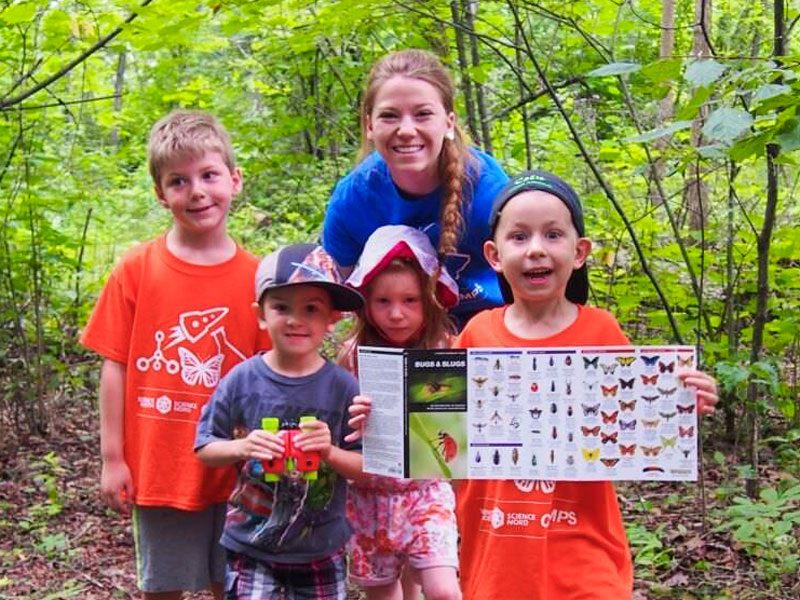 Science North creates amazing experiences that encourage learning through play, exploration, and the use of creativity in order to solve problems.
---
If you would like to support Science North's Summer Camps with a corporate donation, please contact Lindsay Donnelly at lindsay.donnelly [at] sciencenorth.ca