VIRTUAL SPRING BREAK 2021!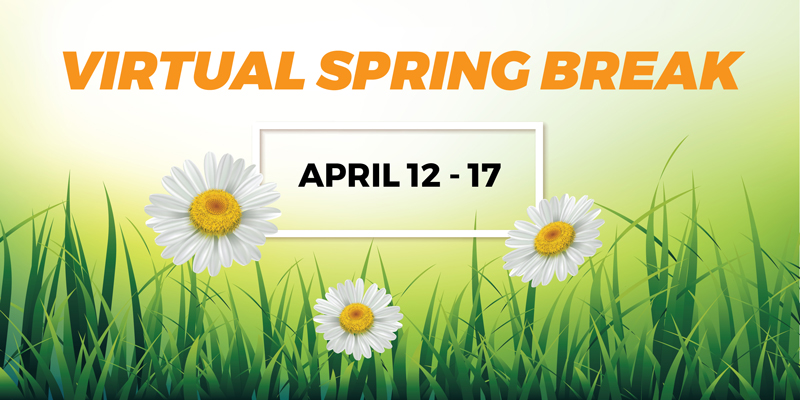 From April 12th to 17th, we'll be sharing free virtual workshops for the whole family! Participate in workshops with items found around your house, or ask our Bluecoats your burning questions. 
From chemistry and coding to anatomy and animal demonstrations, it's a delicious smorgasbord of science you don't want to miss!
---
MONDAY, APRIL 12
10:00am — SAVE A LIFE, LEARN HANDS-ONLY CPR (English & French)
Learn how to save a life! Knowing how to perform hands-only CPR could save a life of a friend or family member. You can join in with Bluecoat Bruce and learn this important skill.
MATERIALS
2 toilet paper rolls
1 jar lid that "clicks"
Pillow
---
1:00pm — RATTLESNAKE LIVE! (English)
Do you love snakes as much as we do? Join Bluecoat Kathryn in a live rattlesnake demonstration and feeding. You will be able to ask all your questions about Eastern Massassauga rattlesnakes and other Ontario snakes.
---
TUESDAY, APRIL 13
10:00am — EXPLORE YOUR NERVOUS SYSTEM (English & French)
How does your brain work? Bluecoat Bruce will explore neurobiology by looking at your amazing brain. You will be able to test your own nervous system with an at-home experiment.
MATERIALS
Ruler
Some paper clips 
Wooden spoon or butter knife
---
1:00pm — MENTOS WITH MELISSA (English)
Get your safety goggles ready! Bluecoat Melissa has an explosion ready for you to celebrate spring break. There's more science than meets the eye!
---
WEDNESDAY, APRIL 14
10:00am — CAT AND MOUSE SCRATCH CODING GAME (English)
Play a game of cat and mouse! Bluecoat Jonah will have you making your own game in no time with this online computer coding workshop.
---
2:00pm — STUMP THE SCIENTIST (English)
Can you stump a Science North Scientist? Our scientists are ready to answer your most challenging science questions. If you can stump our scientists, your name will be engraved on the highly coveted "Science Stump Trophy".
---
THURSDAY, APRIL 15
10:00am — COOKIE CHEMISTRY (English)
Your favourite foods are made possible thanks to science! Join Bluecoat Nina with an edible baking experiment to learn how chemical reactions help to create tasty treats.
***An adult helper is recommended if you make cookies at home during this session ***
If you want to bake along, join with your favourite chocolate chip cookie recipe and the ingredients and tools needed to make it. Don't have a favourite recipe? Here's Nina's:
½ cup butter
¼ cup white sugar
½ cup brown sugar
1 egg
¾ tsp vanilla
¼ tsp salt
½ tsp baking soda
1 cup flour
½ cup oatmeal (optional)
1 cup chocolate chips
You'll also need measuring cups, measuring spoons, one large bowl, something to stir with (like a spoon or wooden spoon), one baking sheet, and something to keep the cookies from sticking to the sheet, like cooking spray, parchment paper, or a Silpat® mat.
---
12:00pm — DISCOVERY INDIGENOUS INGENUITY (English)
Come explore a part of Indigenous Ingenuity: Timeless inventions exhibit; hosted by Science North. Bluecoat Matt will help you discover the history and science of an ingenious Indigenous invention that continues to play a role in modern day hunting practices, the bow and arrow or Mtigwaap. Build your own mini-Mtigwaap with materials you can find right in your own home!
SUPPLY LIST
Craft sticks (popsicle sticks)
Dental floss
Water and small bowl
Cotton swabs
Crafting knife / X-Acto® knife
Scissors
Cutting board
---
2:00pm — TURTLE TALK (English & French)
It's spring! That means turtles will be on the move soon, waking up from hibernation and getting ready to lay their eggs. Bluecoat Meghan will help you learn how to identify Sudbury turtles and find out how you can help them stay safe this season.
---
FRIDAY, APRIL 16
10:00am — UNDER THE ARCTIC (English)
What is permafrost and why is it so important? Join Science Specialist, Kelsey Rutledge, for an at-home workshop exploring the permanently frozen ground that makes up a large portion of our planet.
MATERIALS
Packaged yeast
Sugar
Balloon
Water
Measuring cup (1 cup size)
Empty plastic bottle
---
2:00pm — LIVE CREEPY CRAWLIES (English)
Join Bluecoat Jacquie to learn more about Science North's amazing tropical insects and arachnids.
---
SATURDAY, APRIL 17
7:00pm — VIRTUAL STAR PARTY (English)
Meet Bluecoats Lucie and Olathe for a virtual star party! Check out our telescope and enjoy a live tour of the current night sky in Sudbury in a virtual Planetarium. Ask your astronomy questions! Afterwards, use the map we will provide to head outside and see what you can find in the sky IRL!